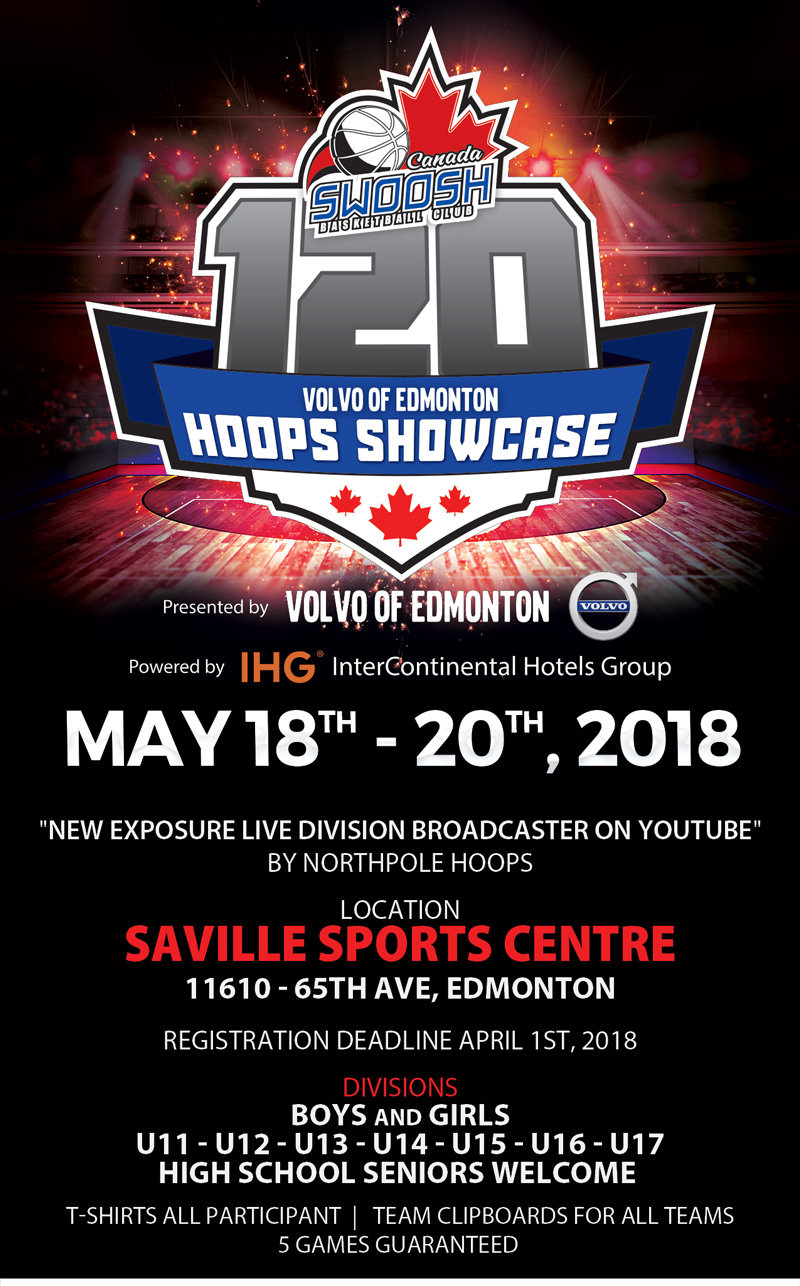 Volvo of Edmonton Hoops Showcase Presented By Swoosh Canada Basketball Set May 18-20
One of the countries biggest club basketball tournaments is returning to Alberta, on another level.
The 7th Annual Volvo of Edmonton Hoops Showcase Presented By Swoosh Canada Basketball, will continue its sponsorship with presenting partner Volvo of Edmonton, along with the support of IHG InterContinental Hotels Group.
The tournament will run from May 18-20th at the Saville Sports Centre in Edmonton, Alberta—arguably the top basketball facility in the country.
Founder and director of Swoosh Canada Basketball Ron Hopkins, has teamed up with North Pole Hoops to help bring more exposure, higher level teams and talent to this event by adding a Live exposure division in Alberta.
"I want more contact with higher level athletes and for this talent to be marketed to NCAA and post-secondary schools," says Coach Hopkins.
Championship and semi-finals Games will be live broadcasted right here on NorthPoleHoops.com and will be archived on NPH Youtube.
In addition, the tournament Draw and Preview will be released on NPH, including key teams and players at Swoosh 120.
During the tournament, plays of the day will be captured and released, to provide added media exposure for the exciting talent in attendance.
Coach Hopkins and his team's dedication to helping student-athletes reach their potential is his motivation in running the Swoosh 120 Tournament.
"We want to help you take the next step in your basketball evaluation by putting you on a stage where scouts and colleges can see you."
Coach Hopkins continued to say, "I am trying bring an event to Alberta that is second to none when recruiting high level talent."
The tournament consists of divisions from U11-U17 for both boys and girls.
To register for the Swoosh 120 Tournament, visit www.swooshcanada.com
This event will include tournament give-a-ways for teams and parents, including:
Team t-shirts for up to 15 teams, including coaches;
Coaches' clip board from IHG for each team
Free room night give away from IHG at the half-time of the Live Division games.
To date, confirmed programs include Two Blaze Showcase teams from Clayton, California along with Canadian Contingent:
Calgary Storm U17 Elite – Calgary, AB
Swoosh U17 Elite – Edmonton, AB
Bison Elite — Winnipeg, MB
Alliance — Winnipeg, MB
Green Wave U17 Elite — Saskatchewan
NexGen–

Edmonton, AB — 

Defending Champs
WEBA U17– Edmonton, AB
ASB U17 –Edmonton, AB
FSJ Flight –B.C.
For tournament updates, follow Coach Hopkins on Facebook Instagram Twitter