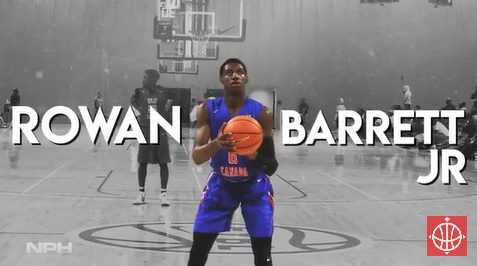 Could Rowan Barrett Jr Become GREATEST Canadian Basketball Player EVER?
Rowan Barrett Jr has been collecting MVP honours since he came out of the womb, it seems. RBJ has repeatedly elevated his game at the highest of level, and biggest of moments–none bigger than Canada VS USA en route to the FIBA World championships, taking the country to unprecedented territory.
When we think of the great Canadian basketball players ever, Steve Nash comes to mind as a former two-time NBA MVP, who happens to be RBJ's Godfather.
In today's era, we think about Andrew Wiggins and Jamal Murray as having that type of potential…and then we have the #1-ranked player in the world in RJ Barrett.
The 17-year old played two years up and dominated the World championship tournament, and we expect him to be the #1 NBA draft pick in 2019 when it's all said and done.
What makes RBJ special is that he has the full package—the combination of Wiggins talent / physicals, along with Murray's fire and mental game. Ask around, from the experts to the general fan…you know a star when you see one…his name is Rowan Barrett Jr.
This highlight package displays his full skill set—current strengths are attacking the rim and playmaking, with his most underrated element being his superb passing ability. Enjoy!
Could he become the great Canadian Basketball player ever? Quite possible…what do you think?