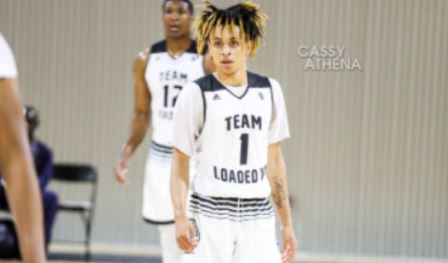 Jaelin Llewellyn Top Canadian 2018 PG Everything On Upswing
Jaelin Llewellyn is at the top of his game. His mindset, leaping ability, recruitment and academics are all on the upswing. The 2018 Canadian point guard out of Mississauga, Ontario has long been ranked at the top of the class. He is meeting his potential an exceeding self-expectation. An honour role student getting it done on and off the court.
Llewellyn is the number one point guard in the 2018 Canadian class and is putting an end to any rumblings or debates that would suggest otherwise.
His recruitement over the last few months has spiked as multiple high major programs from the biggest and baddest NCAA conferences have taken notice.
The latest to offer are Virgina, Penn State, Ohio State and Florida.
Llewellyn will be visiting Virgina today and Georgetown and Maryland on Tuesday. Wake Forest, where is father Cordell played before completing a solid college career at Rhode Island.
This season for Llewellyn has been different from others in a variety of ways, beginning with the mental aspect.
"Difference between last year and this year would be I'm just playing my own game and having fun, not worrying about mistakes or anything. I just feel free again."
During the school year and basketball season at Virginia Episcopal, he was welcomed into the community and team with open arms, embraced as someone that can make an impact.
As the starting point guard he was looked on to be a vocal leader, while setting the table and being a primary scoring option in many games.
Llewellyn carries a calm demeanour and maturity level that is beyond his years, and so he took the challenge head on. While known for having a tight handle and crafty finishes, the jump shot, admittedly was an area that needed improvement.
"Just a lot of reps, a lot of shots, anytime I get a chance. I've improved my jump shot and overall decision making the most. Watching film has helped me tighten up a lot."
'Point guards like Kyrie and Russell Westbrook influence my game and even guards in college like Frank Mason."
On the Adidas Circuit with Team Loaded he averages 8.6 ppg, 2.9 rpg and 4.1 apg.
Andrew Wiggins sponsored team out Virgina, Team Loaded is in good position to go all the way into the finals at the end of the summer.
"For immediate goals, I think winning the Adidas Gauntlet is up there. Also continuing to show everyone I can play at a high level. I'm continuing to get physically stronger, people are going to see a different me."
Having known Llewellyn for years, up until now he has always let his game do the talking. Humility is a characteristic that sets him apart from many players, never too high, never low. This remains the same but with a slight twist in a positive direction, a more aggressive and confident direction.
While his body fills in and personal and team success rises, his confidence takes the same course.
"For immediate goals, I think winning the Adidas Gauntlet is up there. Also continuing to show everyone I can play at a high level. As I continue to get physically stronger, people are going to see a different me."
There's one more season to go at the high school level. One more season to get his body right for the college level. If he fills in with muscle mass anything like his family tree, Llewellyn could create havoc for defenders more than he already does. His sneaky explosiveness to top it off creates poster plays and ignites his team.
2018s finest PG is not looking to make a college decision anytime soon as more schools have recently got involved. He is however studying rosters along with his dad Cordell to start getting a feel for where his services and playing style would fit.
"I don't really have a dream school, but I was pumped when I heard from Stanford and Harvard, because from a life standpoint, away from basketball; I know in places like that, as long as I do my part, can set me up for life."
"I'm developing relationships and talking to a lot of schools right now, just excited to learn about best possible situations."
As offers continue to roll in throughout the circuit, Llewellyn accepts them humbly and remains focused on a championship to cap the summer.