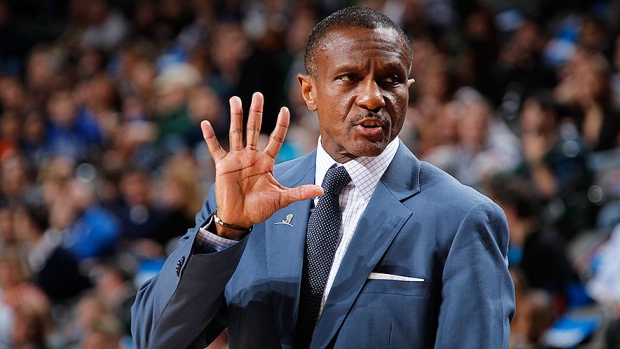 Casey turns to strength in numbers in Raptors' Game 2 victory
Heading into the final two weeks of the regular season, Dwane Casey, head coach of the Toronto Raptors hinted that he would be tightening the rotation to get into playoff mode. This is a traditional mindset heading into the postseason, as teams look to play their best players the most minutes.
The Raptors, however, are spoilt by excellent depth throughout their roster. At point guard, Kyle Lowry is the undisputed leader, but he has been ably aided by Cory Joseph, Delon Wright, and Fred VanVleet at various points in the season. Norman Powell has proven his worth behind either of DeMar DeRozan or DeMarre Carroll, averaging 17.3 points when starting at shooting guard, and 13.9 points as a starting small forward.
Patrick Patterson has long established himself as a steady role player, flexible enough to defend multiple positions, and provide outside shooting at the 4 spot. Pascal Siakam, a rookie, was used as a starter in 38 games after a foot injury suffered by Jared Sullinger, before Serge Ibaka came to the rescue. At centre, Jonas Valanciunas, Lucas Nogueira, and Jakob Poeltl have all brought unique skill sets to the table over the course of the season.
With a roster resembling a closet with clothing for every season, the rudimentary method of prioritizing key players' playing time in the playoffs could prove counterproductive to one of the team's biggest strengths.
In Game 1, Toronto struggled to find answers on both ends, and limiting their resources may have contributed. Casey committed to a hard eight-man rotation, and only turned to Norman Powell late in the fourth quarter out of desperation. Malcolm Brogdon's strength and length caused problems for Kyle Lowry, while the Bucks also targeted Cory Joseph with Khris Middleton post-ups. On the inside, Greg Monroe had his way with Jonas Valanciunas, but was held under control by Serge Ibaka. Despite Ibaka's best efforts, Monroe finished with 14 points and 15 rebounds.
The loss left Toronto desperate to win Game 2, and Casey utilized more of the swiss-army knife at his disposal.
After the Bucks went on a 7-0 run to cut a nine-point Toronto lead to two with 8:25 remaining in the first quarter, Casey substituted Cory Joseph with Delon Wright. With 52 seconds remaining the first half, the Raptors were back up by eight. Now, there were four other players on the court with him, but Wright plugged a hole that the Bucks exposed in Game 1, and during the 7-0 run. Wright guarded Brogdon, and negated the advantages he had over Lowry and Joseph.
The 2015 Bob Cousy award recipient (an award given by the Naismith Memorial Basketball Hall of Fame to the top men's collegiate point guard) has a great feel for the game, and has used his length to skip by defenders on offence, while picking passes and anticipating passing lanes on defence, all season. The Bucks scored five points in the final 52 seconds to take the gloss off that lineup's effort, but Casey was quick to point out that his playing time was worth more than the three assists and two rebounds that the box score would indicate.
"I thought he (Wright) did an excellent job of coming in, creating shots, and creating opportunities," Casey said. "I thought he did as good a defensive job as you can with Dellavedova and Brogdon. He, Norm, and Jakob are going to have a role in this series before it's over."
After some foul trouble for Valanciunas, Poeltl was the next unused reserve from Game 1 to be implemented. He only played three minutes, but like Wright, stayed true to what he does best. He held his own against Greg Monroe and aided in the flow of the offence in a way that Valanciunas doesn't.
Another wrinkle in Game 2 was the trio of Ibaka, Patterson, and Tucker. After seeing just one minute of action together in Game 1, that front court saw 20 minutes of playing time on Tuesday night, and finished with a defensive efficiency rating of 89.8. Joining them to start the second and fourth quarters were Lowry and Joseph, and the group led the Raptors to a 9-0 start to the second, and an 11-0 start to the fourth. In a game that was tied with under two minutes remaining, those runs proved pivotal.
By doing away with tradition, Dwane Casey was able to find concoctions that constantly left the Bucks in recovery mode, and eventually without an advantage as the series heads back to Milwaukee.