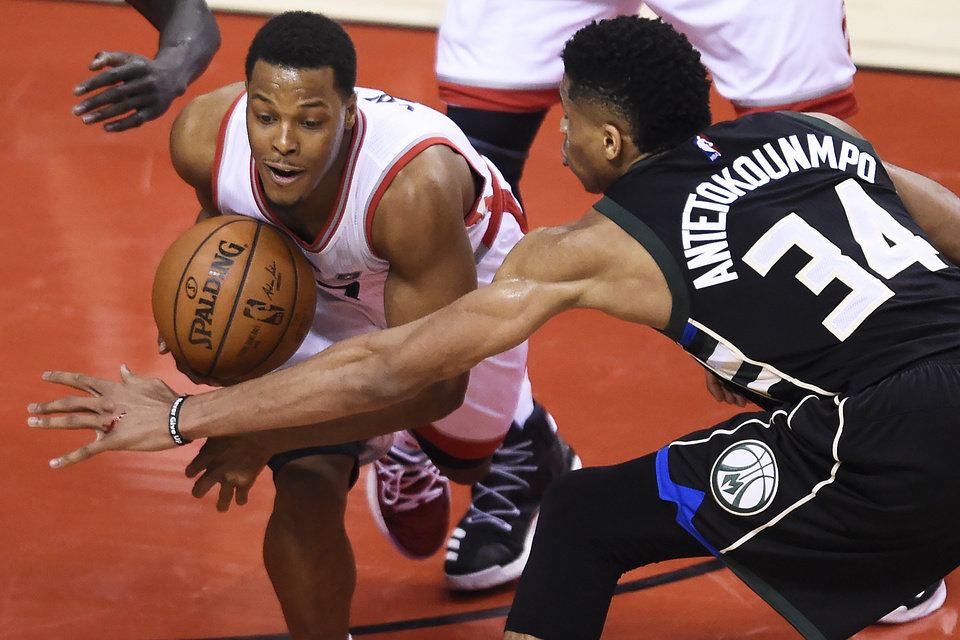 A Freak and the Raptors stayed true to their identities
As human beings transition through infancy, adolescence, and then adulthood, one of the many challenges they face is to find themselves — an identity that for better or worse, makes them who they are.
In Game 1 against the Toronto Raptors, Giannis Antetokounmpo showed that he has taken gazelle-like strides forward towards becoming who he is — one of the game's greats — after head coach Jason Kidd gave him the reigns to be all he can be. Up until February of 2016, Antetokounmpo played as a small forward for the Milwaukee Bucks. He scored some, rebounded a lot, assisted a little, and even stole and blocked some. Doing all these things seemed to be a part of his DNA, but playing at the three and off the ball held him back.
Kidd moved him to point guard, and the rest appears as though it will make history.
This past season, the 6'11'' 222lbs. point guard became the first ever NBA player to finish in the top 20 for all five major categories. He was 14th in points, 15th in rebounds, 18th in assists, ninth in steals, and fifth in blocks. Enter nickname, The Greek Freak.
Save for a few good moments from P.J. Tucker, the Raptors had no answer for the Bucks' jack of all trades. Antetokounmpo finished 13-of-18 from the field for 28 points, had eight rebounds, three assists, two steals, and a block. Wait. Scratch that. It wasn't just a block, but rather, a violent swat on DeMar DeRozan that provided the final exclamation mark in a resounding 97-83 victory at the Air Canada Centre.
The question coming into this series was his jumper, but he served Toronto notice that they will have to find a way to stop him from getting to the rim if they want that question answered.
The three assists may appear low, but that had more to do with foul trouble and having the freedom to pick his spots with both Kris Middleton and Malcolm Brogdon easing the playmaking load. Trusting his teammates is also one of the reasons Milwaukee finished with a season-low five turnovers, including zero in the first quarter.
This is a Bucks team that was supposed to be raw, inexperienced, and out of their depth in one of the most intimidating atmospheres in the NBA. Giannis is no longer raw, has established himself as the clear alpha dog, and if not for the historic seasons of James Harden and Russell Westbrook, would probably be in with a shout for the league's MVP.
He is the best player in the series, and against a team that doesn't like doing things the easy way in the Raptors, he could make things much more difficult than people anticipated going in.
Toronto also remained true to their identity, losing for the umpteenth time in Game 1, with their co-franchise player Kyle Lowry remaining a shadow of himself when it comes to the playoffs. In four playoff openers for the Raptors, Lowry is 14-for-52 from the field and 4-of-24 from three. He cut a forlorn figure in the locker room, even admitting, "It's super frustrating, it's crazy. It's like déjà vu all over again."
As much as Lowry has come through for Toronto in the regular season, the defence of his playoff struggles look shakier with each postseason minute. 2014 was about the ankle and knee issues. 2015 was his back. 2016 was his elbow. This year? He's come in fresh after a month-and-a-half off. The other side of the coin says he's still working his way into game shape after that time off, and that while he did play four regular season games, the playoffs are a different animal.
Some may ask how far the Raptors can go if DeRozan is their best player, and that's a fair question. He already carried the Raptors to a 14-7 record as Lowry nursed his right wrist, and is in the midst of the best season of his career. But despite scoring 26, he was just 7-of-21 from the field, furthering the futility of his own 14-for-52 shooting over three playoff openers prior.
If the Raptors hadn't advanced to the Eastern Conference Finals last year, panic would already be at full tilt. That run appears to have bought them some time, but the Greek Freak is waiting for no one. The Bucks were carrying their own dismal record from 11 years before Antetokounmpo was born. They had lost 17 straight Game 1s on the road, but it didn't matter on this evening.
Kyle Lowry and the Toronto Raptors remained who they are, and the Greek Freak now has the world stage to show who he's becoming.