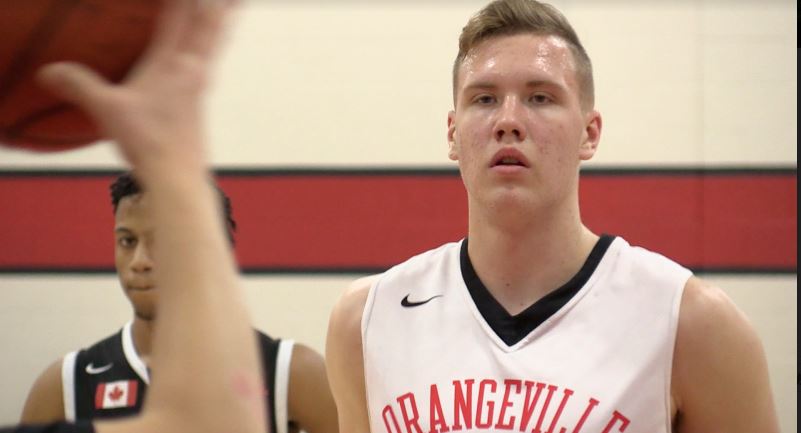 Orangeville Remains Undefeated 6-0
On a night where Jamal Murray and Thon Maker's high school jerseys were retired, the next batch of talent looked on as the unveiling took place in Orangeville, Ontario.
The two teams competing to maintain a perfect record in the OSBA were Athlete Institute and Orangeville Prep, who walked into a game last night with perfect records of 7-0 and 5-0 respectively.
UMass and Syracuse looked on as Ignas Brazdeikis, Keshaun Saunders and Aaryn Rai carried Orangeville to a 95-92 win to keep the record untainted and improve to a 6-0 record.
There were many moments in the game where AI had control of and seemed like they were going to pull out the win. Tyler Plummer really stood out in the fourth quarter for AI rallying for 10 points in that frame alone but O-Prep had an answer every time.
Syracuse commit Oshae Brissett had some emphatic plays including a put back dunk that provided energy
but not enough to seal the game for AI.
Whether it was Saunders slashing with a swift euro step finish or Farquhar, to set the table for Ignas Brazdeikis who made the open three to answer back, they got the job done.
Orangeville Prep is playing a very unselfish brand of basketball at this point in the season and Coach Nathan Johnson has them gelling.
The pieces compliment each other and there's guys coming off the bench that are contributing as well.
James Karnik hasn't been getting a lot of pub but definitely deserves some for the work he does in the paint, both while defending and cleaning up on misses.
Aaryn Rai is getting an opportunity to unleash more than he had last season and it's paying off for his team. The skilled 6'6 small forward has committed to NCAA DI program Dartmouth for next year.