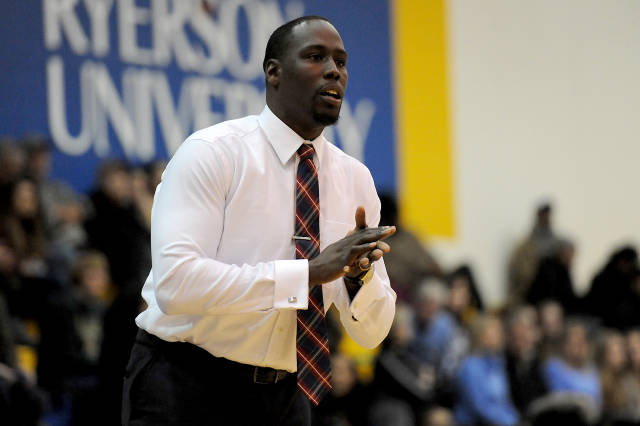 Patrick Tatham takes professional leave to join NBA D-League
The Ryerson Rams announced today that men's basketball lead assistant coach Patrick Tatham will be taking a professional development leave for the next eight months to join an NBA D-League squad.
.@RyersonMBB coach Patrick Tatham has exceeded all expectations https://t.co/S607717q3b pic.twitter.com/K9SO8NZT4K

— The Eyeopener (@theeyeopener) March 18, 2016
Tatham worked as an assistant coach under Roy Rana for five years before taking over bench responsibilities for the 2015-2016 season as Interim Head Coach. Tatham led the Rams to a 17-2 regular season, good for top spot in the OUA standings for the first time in Ryerson history. In 2016, Ryerson again made school history by claiming the No.1 national ranking.
The success did not end there during Tatham's first season at the helm, leading Ryerson to their first OUA title over Carleton. Tatham also took home OUA and CIS Coach of the Year awards during his inaugural campaign.
MBB: Congratulations to @coach_pt who will take a leave from the Rams for the season and join @nbadleague: https://t.co/IufgvYcLGP #weRrams

— Ryerson Rams (@ryersonrams) September 15, 2016
"We are excited and take great pride in supporting Patrick on his continued journey in coaching," said Ryerson head coach Roy Rana in a Ryerson press release. "This professional development leave will allow him to continue his growth as an elite coach. It has been amazing to witness the development of Patrick as a young man and now a high level coach, and our program looks forward to the knowledge and experience he will bring back to the Ryerson family."