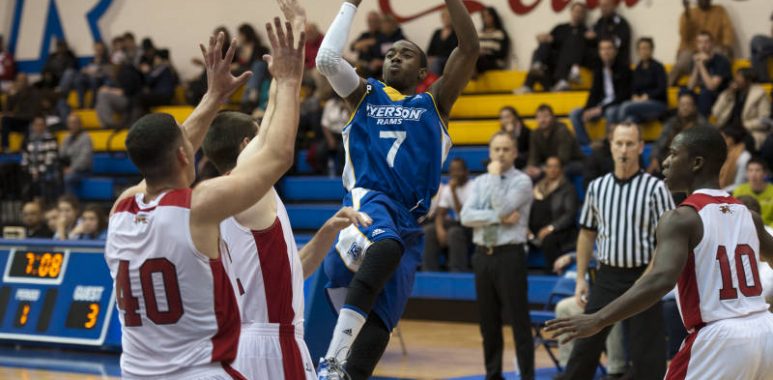 Former CIS Stars Baker & Jones land with new Pro teams
Ryerson alum Jahmal Jones and University of Alberta's Jordan Baker have both signed new professional contracts overseas.
Jones heads to Estonia where he will join Tallinna Ulikool/Kalev, who will play in FIBA Europe Cup, The Baltic League, and the Estonian Korvpalli Meistriliiga (KML). Jones signed a one-year deal with the squad. 
Jones, a former First-Team OUA and Second-Team CIS player with the Rams, is coming off an incredible first professional season with Turi Svitavy in the Czech Republic. The 6'0" guard ranked 3rd in the league in both assists and steals, while averaging a robust 14.7 points, 5.4 assists, 4.8 rebounds, and 1.9 steals per game. Jones finished the season as a two-time Eurobasket.com All-Czech Republic NBL Player of the Week and was named a Eurobasket.com All-Czech Republic NBL Honourable Mention. 
"I am thankful to have another opportunity to play overseas," Jones told Slan Sports Management. "I am excited to be able to compete for Tallinna Ulikool/Kalev in Estonia but also internationally in FIBA Cup and the Baltic League."
Baker will be taking his talents to Japan, where he signed  a one-year contract with the Iwate Big Bulls in the B2 Division of the newly formed Japanese B.League.
Baker, who is a Golden Bears legend, finished off his CIS career with two First Team All-Canadian honours, a Canada West Player of the Year nod, all while collecting 10 records for U of A basketball, including leading the school in all-time career scoring, rebounding, assists, and steals. Baker is also the University of Alberta's all-time career leader in field goals made, field goals attempted, and minutes played. The Albertan heads to Japan from the Portuguese club, Galitos Tley, where he was named a Eurobasket.com All-Portuguese League Honorable Mention after his second year as a Pro. 
"I am very excited to be joining Iwate," Baker told Slan. "Japan represents a new challenge and a great opportunity to showcase my game. I am proud to represent Canada, the CIS, and the University of Alberta in my third professional season."