Ritchie Kanza Mata Sparks Dalhousie UPSET Victory over Ottawa, Tigers Advance to Final 4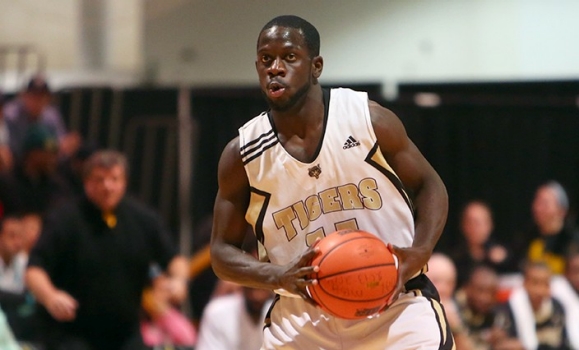 –
By Mitch Robson
Richie Kanza Mata lead a second half charge in the Dalhousie Tigers 87-83 upset win over the Ottawa Gee-Gees on Thursday afternoon.
Kanza Mata scored 24 points on 8-12 from the floor, dished out four assists and added three steals and rebounds to his line as well.
He keyed the second half defensive effort as well, which limited Ottawa to 11 points in the fourth quarter.
"I wouldn't say we surprised them, because we lost in a close one last year so the story was out about us. We're a tough team, we're a defensive team and that's our motto so I hope they weren't looking past us, and that's why you play the games because results like that can happen" said Kanza Mata on his team's upset victory.
After Ottawa shot nearly 60% from the floor in the first half, Dal tightened the screws defensively and held the Gee-Gees to just 2-18 from three point land in the second half.
Dalhousie will have a date with Carleton in the semi-final on Saturday night, a challenge Coach Rick Plato is looking forward to.
"The very first game I coached here we lost to Carleton by 40, and I said we have to model ourselves after them, because they're the best. We took our lumps and learned from it…and we'll come tomorrow and work for 40 minutes."
The Gee-Gees will take on the Thompson River Wolfpack on Friday in the consolation round.