Adika Peter-McNeilly, Ryerson Rams Survive UBC in Overtime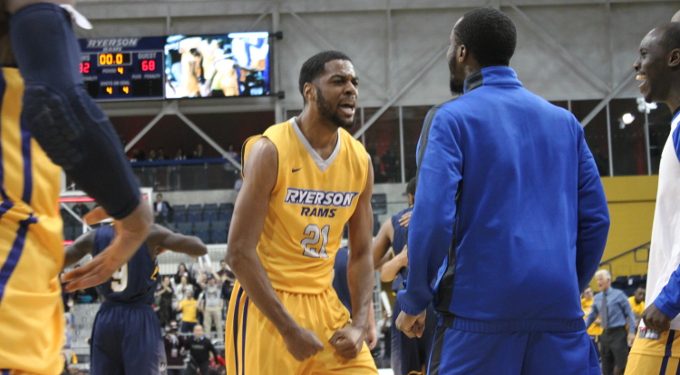 By Mitch Robson
Behind 25 points and nine rebounds from Adika Peter-McNeilly, the Rams battled back from a deficit that had ballooned as high as 14 midway through the third quarter and came back to win 109-101 in overtime.
The Rams advance to the national semi-final against Calgary.
"It was crazy, I'm exhausted right now, and the crowd was going crazy it was back and forth. We just found a way to do it, took it one possession at a time and got some crucial defensive stops. I never lost hope." Said Peter-McNeilly on how the Rams managed to salvage the win.
Ryerson managed to overcome a 14 point second half deficit to force OT on a JV Mukama three with 29 seconds left to knot the game at 90 all.
From there the Rams took control in OT, starting the period on a 9-2 run and then making their free throws down the stretch to lock up the win.
Despite making over 50% of their looks from the field, UBC didn't have enough firepower to counter the late run and they will now face McGill in the consolation round on Friday.
The Rams will move on to the National semi-final on Saturday evening against the Calgary Dinos.