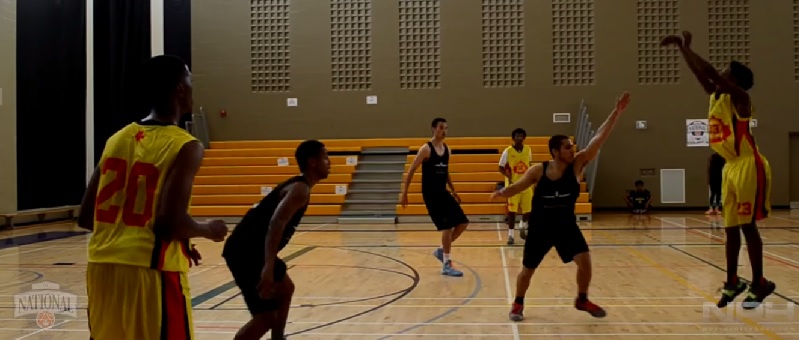 Vermont Looking Like Top Dog at Sun Youth, Ottawa Elite and Thetford In The Way
Into the third day at the 35th Sun Youth Holiday Classic, there have been no surprises thus far, however many new faces to learn about; from Dorval's  2019 PG Joseph Steeve to Thetford Gold's new bigs who stand at 6'10 and up, Tidjane Dauphin and Axel Okongo.
While the hoopla surrounding Ahmed Ali's 103 point game is cooling off, Vermont Academy is getting fired up to take the Canadian title in Montreal. In the final game of the evening last night Vaughan played shorthanded without 3 key players and held a fight against a well rounded Vermont up until the third quarter.
For those who aren't familiar yet, Vermont is Christian David's home for this year and the next. David is developing at an accelerated rate and is convincing doubters that for the next stage of his young career could end up at whatever level he chooses. The grit, toughness and self-assurance in his abilities make a tough player to guard. He's now 6'6 and playing either position from 1-3.
His shoulders are more broad and he is starting to pack on the muscle that will allow and invite a more physical style of play.
Outside of Christian David's game high 18 points in the win, Bruce Brown (Miami commit) pitched with 11 and Xavier commit Tyrique Jones had 16 points and four blocks.
Speaking of Xavier commits, Eddie Ekiyor was in the mix yesterday and has helped Ottawa Elite move on passed Jeanne Mance.
With Ekiyor, Xavier gets an athletic, versatile big man that can fill up multiple stat categories and a bruiser and vicious post presence in Jones.
Top JUCO PG Prospect
As mentioned by National Scout, Tariq Sbiet a few days ago, Ahmed Ali did not blow up over night. It wasn't this 103 point game that put him on the map. Throughout the summer he was a top producer for DeenUp and during the Ontario Prep season with BTB he's a top PG in a loaded field of talent at that position.
Thirty and 40 point games are fairly routine for Ali, but he is not just a scorer.
After his record night, defenders have zeroed in on him and his phone has been ringing off the hook with calls from international media.
In last night's win for BTB, Sun Youth through multiple defenders at Ali to make sure he doesn't "go off" again, and they did a good job doing that. Ali finished with 11 points, 7 rebounds and 7 assists. He's never going to not show up. Ali finds away to affect the game positively one way or another.
For JUCO programs looking to take a point guard at the end of this season, they must stop and have a good look at Ali's resume, his improvement and overall production. The kid could flat out ball.
Fresh On The Scene: Joseph Steeve
Dorval Jean XXIII is a team I am familiar with from last year's Quebec  high school championship. Jama-Abdi Miganeh was the name that got on the radar and last night he had 42 points in a 96-93 loss to Jeanne Mance, but this year his teammate Joseph Steeve of the 2019 class is taking from the shine and making a name for himself.
Steeve plays with poise and great control of speed and space. In last night's action he put different Jeanne Mance defenders in a whirlwind using a variety of crossovers and hesitation moves.
Jeanne Mance was an extremely athletic and gritty opponent but that did not phase Steeve. He put teammates in scoring position by breaking down the defense.
Whose Left After Day 1 & 2?
On the winning side of the bracket there are no surprises. Below are today's game from the winning side of the bracket.
11:30am – Montmorency vs BTB
1:15pm – Ottawa Elite vs Thetford Gold
3:00pm – John Abbot vs Ottawa Next Level
6:30pm – Winner of 3:00pm vs Winner of 11:30
8:15pm – Winner of 1:15pm vs Vermont