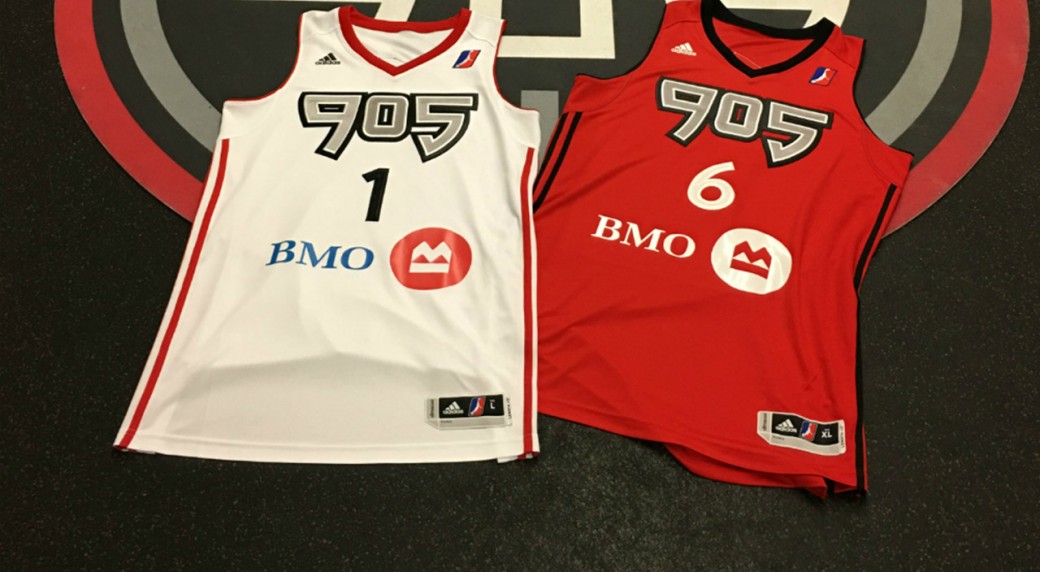 The Raptors 905 jerseys are … here
Yesterday the Raptors 905, the newest member of the NBA D-League, revealed the jerseys (full game uniforms really) to the public and well … they're here.
As you can see from the image above, and countless other images from yesterday I'm sure, the jerseys use simple primary color schemes of solid white or red to indicate home and away with accenting black, grey red and white depending on the type of uniform.  The stylized 905 team logo in block numerals in on the chest and the same for both sets in a solid grey with black outlines and some white accenting lines.
My initial reaction is still my only question – that's all you got?
Don't get me wrong I don't think the uniforms themselves are like 1997 Cleveland Cavs or the recent sleeved NBA Christmas ones from last season but I really thought they would look a little better.  I'm a fan of the separate parts like the solid color scheme with accent and the 905 logo too but as a whole it really doesn't grab me as this needs to be in my collection like the first Raptors one did (as ridiculous as it was).  It actually looks to me like a Toronto FC soccer jersey with the sleeves cut off, some font resizing and a different logo on the front.  (I do like the Toronto FC jerseys FYI.)  With all the hype about the new Raptors jerseys and the color schemes they will employ this season I would have thought that there would be more of a black and gold influence on this offering also.  I get that there has to be some separation between the minor and parent club and all but there probably could have been a little more between 905 and FC also since that is what my second thought after "What are those?".
Regardless, I'm supporting the 905ers.  I still think it's a decent looking jersey, even with the WNBA-esque sponsor logo on the front under the player number.  I think the farm team has a better looking jersey than the big club.  Here's hoping the jersey doesn't foreshadow the season – looks good but kinda.
What do you think about these Raptors 905 jerseys?