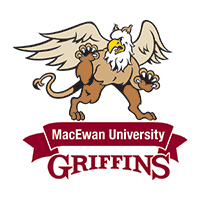 NPH CIS Team Previews: MacEwan Griffins
The MacEwan Griffins showed they could hang with the Canada West teams last season. Now they get to do it all over again.
MACEWAN GRIFFINS 
Head coach: Eric Magdanz
Record in 2014: 7-13 (Fourth in Explorer division of Canada West conference)
Playoffs: No playoffs
Points scored per game: 74.2
Points allowed per game: 80.3
Key players: Denzel James, Ryan May, Keith Gerdes
Key losses: Brandon Sackey, Lee Danderfer, Seaid Deria
Schedule breakdown:
In the Explorer division, each teams plays the five others four times each. In 2014, only three of MacEwan's games were decided by more than 12 points.
"Everyone was able to see that we are a legitimate, competitive CIS team," Head Coach Eric Magdanz tells North Pole Hoops.
This season, the team will hope to improve on its 7-10 record in those games.
Key games: at Mount Royal Cougars February 5 and 6
                     VS Fraser Valley Cascades January 22 and 23
CBG's take:
The MacEwan Griffins finished the 2014 season out of the playoffs and with a .350 winning percentage, but they still exceeded expectations in their debut season in the CIS. "We didn't want to join the CIS just to be another member," head coach Eric Magdanz tells NPH.
"We wanted to join it to be a team that was contributing and a team that's elevating the level of play."
In their second season, the Griffins have a different goal. "Making the playoffs is a goal," Magdanz says. "It would be a pretty special opportunity, (this) being our second year in the league."
For that to happen, the head coach thinks his team must continue competing like they have in their debut season. The young griffins hope to make a splash in year two.