Cory Joseph wins Canada Bronze at FIBA Americas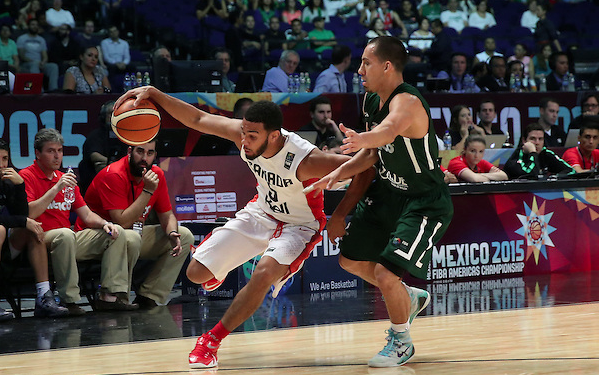 With 11 seconds left Cory Joseph took the ball inbounds and drove up court, dribbling himself into position behind the left elbow, and let a buzzer-beater fly.
Splash. Bronze for Canada, salvaging some excitement for a program already looking forward to their next chance to qualify for the Olympics.
Despite lingering disappointment this was exciting, nail-biting 87-86 win while trading buckets with Mexico throughout the game and down the stretch.
"That's a tough game to play. After both teams going through emotional games last night, I'm not sure how much third place means. But at the same time, we have to play the game, and for where we are as a program, it was a great experience to play the team in their own country," said Head Coach Jay Triano in a release.
Joseph's two ballsy mid-range isolation jumpers in the final minute were sunk with killer confidence. He finished with 11 points, 8 assists, and 6 rebounds.
Andrew Nicholson provided a much-needed scoring punch off the bench with 20 points, and Andrew Wiggins played a team-high 36 minutes and finished with 19 points of his own.
Kelly Olynyk followed up his semi-final heroics with a 10 point, 11 rebound effort. Brady Heslip finished with 13.
Mexico was led by Gustavo Ayon's 16 points and 19 rebounds, and they took advantage of Canada scoring in the post and scoring in the post.
The win still means Canada has to qualify next summer for the 2016 Olympics in Rio at a last-chance tournament that collects the rest of the teams that fell just short from Europe, Asia, Africa and play 18 teams for the last three slots.
"We battled it out with Mexico. Obviously, they are a great team. They picked it up after the first quarter, gained the lead on us. This tournament, we didn't reach our goal that we wanted to reach but we're leaving here with something so that's a plus," said Joseph, the team captain. "I feel like we took a step in the right direction as a group and will continue to build for next summer."
It remains an uphill struggle for Canada Basketball, and with qualification so close and slipping away, it's a reminder that it's still a program on the rise.
Right on schedule, and they're not there yet, but for now they have something foundational to celebrate together in the building of a winning team.