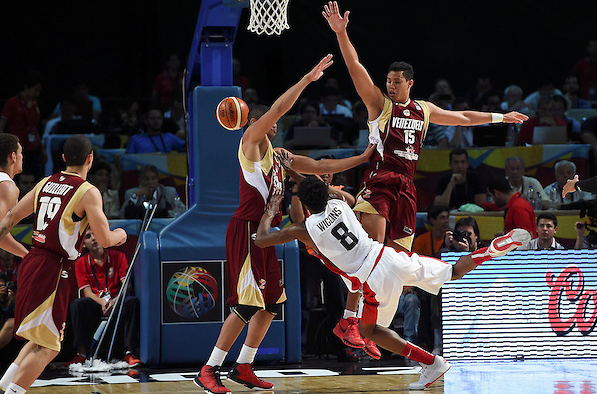 Senior Team Canada
Team Canada
Canada misses Olympic opportunity
They still have a bronze medal game tomorrow, but Canada missed a golden opportunity tonight.
Canada had a shot to place their men's basketball team in next summer's Olympics but dropped the ball in a heartbreaking 79-78 loss to Venezuela.
Kelly Olynyk led the way with 34 points, including 18 in the first half, and grabbed 13 rebounds. Olynyk's efforts alone kept Canada in the game, but his slip on the halfcourt decal gave Venezuela the ball and free throws with seconds left.
Just one week ago, Canada blew out Venezuela 82-62 in preliminary play en route to rolling through the competition by a significant margin and earning the top spot in the tournament and the easiest path to an Olympic berth.
That made Canada's struggle all the more baffling as they failed to take advantage of their easiest path.
Both semi final winners clinch a spot in Rio 2016, with Argentina and Mexico battling for the other slot.
Sure, Canada Basketball is still looking towards their ultimate goal of a medal at the 2020 Olympics in Tokyo but a trip to Rio would provide irreplaceable collective experience for the players and momentum for the program.
The outcome was in doubt as Canada trailed after the first quarter, and a desperation three gave Venezuela the 38-37 lead to end to the half. Every time Canada pulled ahead Venezuela was there neck and neck.
It has to be considered a letdown when you have nine of the 12 NBA players in the FIBA Americas on your roster.
The magnitude of the loss is not lost on the Canadians. Aaron Doornekamp is 29, nobody else is older than 26. Canada has appeared in the Olympics just once during most of their lives: the 2000 Olympics in Sydney. Before that Canada hadn't appeared in the Olympics since 1988.
Wiggins had been smooth and effective in limited minutes but struggled to put up just nine points and was benched down the stretch in favour of Doornekamp who committed the questionable foul on a defensive rebound with three seconds left that put Venezuela up one instead of sending the game to overtime.
Canada will now have to finish top three of 18 teams in a last-chance tournament next summer – not the position they expected to be in. A summer of promise ends in unmet expectations.