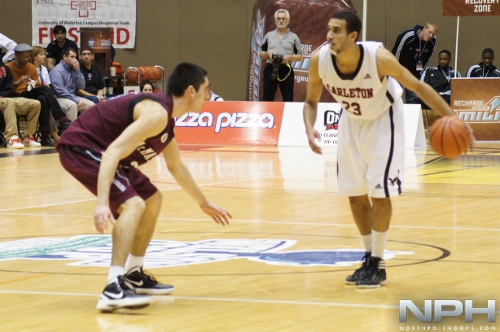 Senior Team Canada
Team Canada
Canada Basketball 2-0 at Tuto Marchand – What Have we Learned?
In game two of the Tuto Marchand exhibition tournament, Canada dominated Brazil, moving to 2-0 with a 80-64 victory.
The purpose of this tournament is to prepare Canada for the FIBA Americas Olympic qualifier beginning at the end of the month in Mexico.
As this tournament progresses, different players will step up on either end of the floor, but after two games in, here's what I've learned:
Depth Will Carry Canada to Victory
Canada's depth was evident in this game, as the bench outscored the starters 50-30 lead by Dwight Powell's 18 points–a game-high.
Powell was extremely efficient, shooting 4/5 FG, 10/13 FT and the same is true in game one (11pts, 5 rbs, 3/3 FG, 5/7 FT in 16 mins).
Canada's three starters (Andrew Wiggins, Nik Stauskas, Andrew Nicholson) were ineffective offensively combining for a total of 12 points–a good sign if you're the Canadian coaching staff, knowing that they don't have to rely solely on one individual.
Against Brazil, Dwight Powell (18), Brady Heslip (15) and Phil Scrubb (10) came off the bench and recorded double figures.
On most nights, it will be Canada's depth that carries the country to victory.
Brady Heslip Still Locked and Loaded
This isn't really new, in fact, it's very old. Brady Heslip continues to do what he's done his entire career at EVERY level–make shots.
When the NPH team selected their version of Team Canada, I mentioned that when you have this amount of talent on one team, it's a matter of role definition, and for Heslip, he knows it very well.
I see him as a guy that will come off the bench and produce game in, game out, shooting it with great confidence–could end up being a legit sixth man for Canada–it doesn't matter how high the stakes are, this dude is a winner, and will step up in big moments.
Anthony Bennett's Versatility
Anthony Bennett continues to play with great confidence and showcased his full offensive arsenal on consecutive possessions in the third quarter– nailing two threes, while working the post and throwing down powerful jams, courtesy of Cory Joseph.
Bennett is one that thrives with a playmaker on the floor as he can finish above the rim , around the rim or stretch the defense, and with Joseph in the mix, expect AB to continue excelling.
Phil Scrubb Winning Back Up PG Spot
It looks like Scrubb will be a lock on this team, as the back up point guard to Cory Joseph, if the first two games are any indication of the direction that the staff is going.
In game one, Scrubb started and recorded 28 mins vs 12 mins for Olivier Hanlan.
Game two? Hanlan did not see the floor, while Scrubb was productive in his 20 minutes (10 pts, 2asts, 4/5 FG).
The backup PG spot is not set in stone yet, but Scrubb is undoubtedly the front runner.
Cory Joseph – The Rock 2.0
Joseph only scored two points, but had a team-high six assists and really made the team better; he was playmaking for his guys and setting them up for easy buckets, particularly Bennett–expect to see a lot of that two-man game on the pick and roll in the future, as Bennett can roll or pop.
Joseph reminds me of the original "Rock" Jermaine Anderson in terms of intangibles; I must pay my respects to the veteran who held down the PG spot for a decade.
Like Anderson, all of Joseph's production doesn't show up in the stat sheet, but will make winning plays and shift momentum during crucial moments in games.
Make no mistake, Joseph is the engine for Canada, among all the high flyers and big names on this team.
Cory Joseph is The Rock 2.0, in this new era of Canadian basketball.