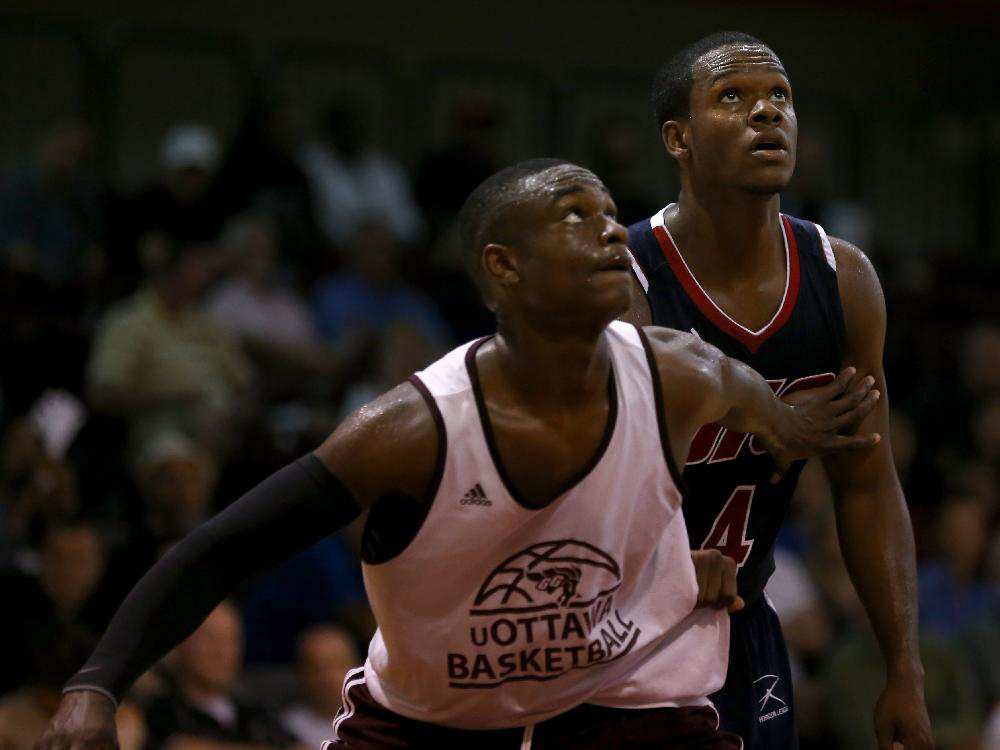 CIS vs. NCAA: The August American Invasion
The Canadian summer has hit it's halfway point and that means a few things:  about four more weeks before school starts, the Senior Women and Men are hitting the courts in the FIBA Americas Tournaments for an Olympic bid AND it's time for the NCAA exhibition tours to hit north of the border.
Every summer there is always a set of NCAA teams that take exhibition tours to get some early training in for their coming season as well to tweak their current teams game plans (NCAA teams are allowed to do so every four years from their last summer exhibition tour). This year is no different.  There will be a few programs, Division 1 and 2, from both men's and women's sides heading into Canada to tune up for their respective basketball seasons.  The American teams will be playing CIS, CCAA and few all star teams also.
The news so far has been that there will be a heavy contingent of NCAA schools coming through both Ontario and Quebec with teams Baylor, Texas Tech and Xavier among the names confirmed.  The concentration of institutions in small areas in both provinces may largely have something to do with the way these the NCAA schools book their exhibition tours since cities like Toronto, Ottawa and Montreal will have at least two CIS teams and are relatively close to any other schools also.
At any rate, the NCAA/CIS exhibition season begins tomorrow with Murray St in the nation's capital to play the Ottawa Gee-Gees and will continue through August.  We have provided a schedule below with the confirmed teams coming up so far.  This will be subject to change as some schools will look confirm tour dates as the month carries on.  Will be looking to update those schools here as we get word and of course in our daily editions of The Slate.
MEN
Murray St 
Sun Aug 2: Murray State at Ottawa
Mon Aug 3: Murray State at Carleton
Wed Aug 5: Murray State at Concordia
Valparaiso
Sun Aug 9: Valparaiso vs Montreal All-Stars at Vanier College
Sun Aug 9: Valparaiso vs Brookwood Elite at Brebeuf College
Tue Aug 11: Valparaiso at McGill
Thu Aug 13: Valparaiso at Carleton
Fri Aug 14: Valparaiso at Ottawa
Saginaw Valley St
Mon Aug 10: Saginaw Valley State at Humber College
Tue Aug 11: Saginaw Valley State at Sheridan College
Thu Aug 13: Saginaw Valley State at York
Fri Aug 14: Saginaw Valley State at Brock
Baylor
Thu Aug 13: Baylor at Ottawa
Fri Aug 14: Baylor at Carleton
Maryville
Fri Aug 14: Maryville at Waterloo
Tue Aug 18: Maryville at Western
Indianapolis
Tue Aug 18: Indianapolis at Windsor
Wed Aug 19: Indianapolis at Western
Thu Aug 20: Indianapolis at Windsor
Texas Tech
Sun Aug 16: Texas Tech at McGill
Mon Aug 17: Texas Tech at Laval
Wed Aug 19: Texas Tech at Carleton
Thu Aug 20: Texas Tech vs TBD
Eureka College
Sat Sep 5: Eureka College at George Brown College
Sun Sep 6: Eureka College at York
Seton Hill
Tue Aug 18: Seton Hill at York
Wed Aug 19: Seton Hill at Humber College
Thu Aug 20: Seton Hill at Guelph
Manhattan 
Sat Sep 5: Manhattan at Bishop's
Kean
Sun Sep 6: Kean at Bishop's
WOMEN
Wright St
Tue Aug 4: Wright State vs CEGEP All-Stars in Montreal
Thu Aug 6: Wright State at Ottawa
Sun Aug 9: Wright State at McGill
Xavier 
Sat Aug 8: Xavier vs CEGEP All-Stars in Montreal
Sun Aug 9: Xavier vs Carleton in Montreal
Tue Aug 11: Xavier at McGill
Thu Aug 13: Xavier vs A-Game All-Stars in Toronto
Maryville St
Mon Aug 10: Maryville vs Bishop's in Montreal
Tue Aug 11: Maryville vs Laval in Montreal
Wed Aug 12: Maryville at McGill
Ohio University
Mon Aug 17: Ohio at McGill
Tue Aug 18: Ohio at Laval
Thu Aug 20: Ohio vs Bishop's in Montreal
Thu Aug 20: Ohio vs CEGEP All-Stars in Montreal
Central Michigan
 Sun Aug 9: Central Michigan at Humber College
 Mon Aug 10: Central Michigan at Ryerson