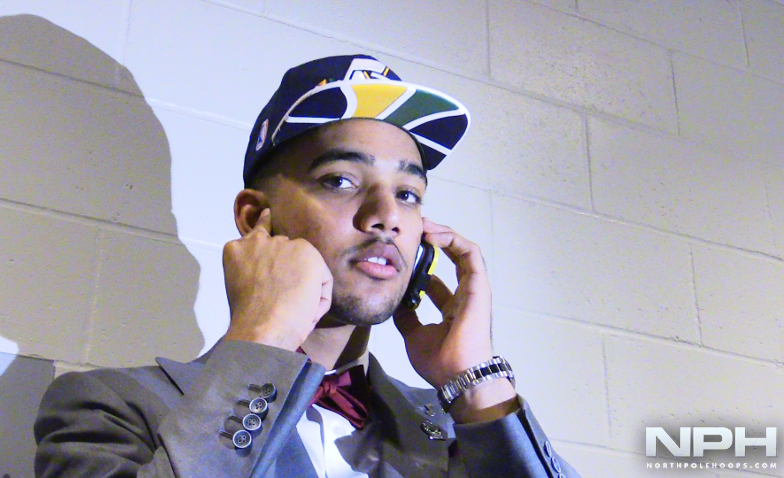 Two Canadians Drafted in 2015 – Trey Lyles, Olivier Hanlan Join Utah Jazz!
Trey Lyles was the first Canadian off the board at the 2015 NBA Draft, going number 12 to the Utah Jazz, while continuing the tradition of draftees from the North.
Since 2010, 14 Canadians have been drafted into the NBA.
Andy Rautins (2010) Tristan Thompson, Cory Joseph (2011) Andrew Nicholson, Kris Joseph, Rob Sacre (2012) Anthony Bennett, Kelly Olynyk (2013) Andrew Wiggins,Tyler Ennis, Nik Stauskas, Dwight Powell (2014) Trey Lyles, Olivier Hanlan (2015).
Utah was one of the teams that Lyles worked out with prior to the Draft where he received positive feedback from the Jazz coaching staff and management.
In the second round, he was joined by fellow Canadian Olivier Hanlan of Boston College with the number 42 pick.
"I know it's a young team. They just drafted Exum last year…I feel like me going to that situation is perfect. I'm a guy that can step in and help contribute immediately," expressed Lyles.
His offensive skill set is matched with great footwork and great feel for passing. At Kentucky we saw him get up and down the floor in transition and has been making improvements upon his body.
There has been some reservation from some NBA management on how quickly he will be able to produce in the the League.
The knock on Lyles for the NBA level is his speed and defensive capability, something that he'll address throughout the summer and put to the test in NBA Summer League.
With all his size, Lyles will likely be used as a stretch four in the NBA. When asked about how he's able to be so agile at his size, here's what he had to say.
"Just a lot of work, years of work practicing, being in the gym, not limiting myself to just one position and being able to do more than one thing. I have to thank my father for that for working with me when I was young."
Team Canada hopes to have his versatile services if they can manage to qualify. Lyles is hopeful that he can help Team Canada medal.