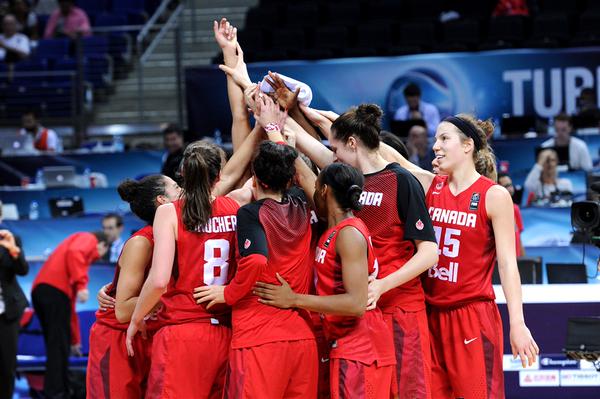 Team Canada Women Announce Tryout Roster
There has been much speculation about which NBA stars will be appearing together for the Pan Am Games and FIBA Americas, but Canada Basketball's Senior Men's program is still very much in its infancy.
The Women, however, are poised for podiums at both Pan Ams and the Olympic qualifying FIBA Women's competition hosted in Edmonton.
With an ambitious schedule and player pool loaded with the likes of Natalie Achonwa, Kayla Alexander, Adut Bulgak, Nirra Fields, Kia Nurse, Korissa Williams, and the Plouffe sisters, these women will be tough to stop.
Per Canada Basketball:
WOMEN'S HIGH PERFORMANCE INVITES 22 ATHLETES TO ATTEND WOMEN'S NATIONAL TEAM PHASE 1 TRYOUT BY INVITATION IN EDMONTON
Team Canada Prepares For Exciting Competitive Season & Hosting Olympic Qualifier
TORONTO, ON – Canada Basketball has announced that 22 players have been invited to participate in the Canadian Women's National Team Phase One tryout by invitation and training camp at the Saville Community Centre in Edmonton, from May 10 to 24."We are excited to get our Women's competitive season started. This is an exceptionally exciting year with two domestic competitions and an Olympic berth on the line," said Denise Dignard, Director, Women's High Performance. "The start of a national team season, with Phase One tryout and training camp, is an important component to our senior team's preparation and will assist in determining final rosters for upcoming events this summer. Players will get an opportunity to get reacquainted with each other and the Canadian style of play heading into the upcoming summer schedule."Edmonton will officially welcome Team Canada on May 13 at a reception hosted by Mayor Don Iveson. The event will take place at Edmonton City Hall, Heritage Room from 5:30 – 5:55 p.m. The event will be open to media and the Mayor, Team Canada Head Coach, Lisa Thomaidis and a Team Canada athlete will be available for interviews.
At the completion of training camp the women will head to Spain and France for a six-game European Exhibition Tour, facing off against Poland, Great Britain, Italy, Spain and France.  The team will then return to Canada to participate in the TORONTO 2015 Pan Am Games. The final Pan Am team roster will be announced in June, before the team plays in Toronto from July 16-20 at the Mattamy Athletic Centre.
The Saville Community Centre is the official training grounds of the Senior Women's National Team and host venue for the 2015 FIBA Americas Women's Championship. The Senior Women's National Team can secure a berth in the 2016 Rio Olympic Games with a top finish at the FIBA Americas from August 9-16.Team Canada will be available to media during the following Phase 1 Training Camp dates. The full list of invitees, staff and schedules follows below.
DATE
TIME
LOCATION
Thursday, May 14
10:30 a.m. – 12:00 p.m.
Saville Community Centre – Edmonton, AB
Sunday, May 17
10:30 a.m. – 12:00 p.m.
Monday, May 18
5:00 p.m. – 7:00 p.m.
Thursday, May 21
10:30 a.m. – 12:00 p.m.
Sunday, May 24
10:30 a.m. – 12:00 p.m.
ATHLETES INVITED TO 2015 TEAM CANADA TRYOUTS BY INVITATION
Name                                     Position                                  Height                    Hometown             Club / School('14-'15)
Natalie Achonwa                 Power Forward                     6'3"                         Guelph, ON          Indiana Fever (WNBA)
Kayla Alexander                  Power Forward                     6'4"                         Milton, ON             Chevakata (Russia)
Miranda Ayim                      Power Forward                     6'3"                         London, ON          Toulouse (France)
Krysten Boogaard                Centre                                    6'5"                         Regina, SK             Unattached
Adut Bulgak                         Centre                                    6'4"                         Edmonton, AB      Florida State (NCAA)
Shay Colley                         Guard                                    5'7"                         Brampton, ON      St. Edward Campion S.S.
Quinn Dornstuader              Centre                                    6'4"                         Regina, SK             Arizona State (NCAA)
Nirra Fields                          Guard                                    5'6"                         Montreal, QC        UCLA (NCAA)
Kim Gaucher                        Shooting Guard                   6'1"                         Mission, BC             Sopron (Hungary)
Saicha Grant-Allen               Forward                                 6'5"                         Hamilton, ON        Dayton (NCAA)
Ruth Hamblin                       Centre                                    6'6"                         Houston, BC          Oregon State (NCAA)
Miah-Marie Langlois             Point Guard                          5'8"                         Windsor, ON          Northland, Lulea (Sweden)
Lizanne Murphy                    Small Forward                       6'1"                         Beaconsfield, QC Angers (France)
Kia Nurse                              Point Guard                          6'0"                         Hamilton, ON      UConn (NCAA)
Katherine Plouffe                  Small Forward                       6'3"                         Edmonton, AB      Arad (Romania)
Michelle Plouffe                    Small Forward                       6'3"                         Edmonton, AB      Arras (France)
Nayo Raincock-Ekunwe        Forward                                 6'2"                         Vernon, BC            Donau-Ries (Germany)
Tamara Tatham                    Small Forward                       6'1"                         Brampton, ON      Piestanske Cajky (Slovakia)
Shona Thorburn                     Point Guard                          5'10"                       Hamilton, ON        Nantes Reze (France)
Jamie Weisner                        Guard                                    5'9"                         Clarkston, WA       Oregon State (NCAA)
Dakota Whyte                         Guard                                    5'9"                         Ajax, ON                                Wisconsin (NCAA)
Korissa Williams                     Point Guard                          5'9"                         Amherstburg, ON Windsor (CIS)
2015 WOMEN'S NATIONAL TEAM STAFF
NAME
POSITION
HOMETOWN
Lisa Thomaidis
Head Coach
Dundas, ON
Shawnee Harle
Assistant Coach
Calgary, AB
Bev Smith
Assistant Coach
Eugene, OR
Steve Baur
Assistant Coach
Wolfville, NS
Theresa Burns
Guest Assistant Coach
Hamilton, ON
Fabian McKenzie
DWNT Head Coach
Sydney, NS
Dipesh Mistry
Performance Analyst
Markham, ON
Joan Mlynarczyk
IST Lead & Head Therapist
Toronto, ON
Marcel Charland
Athletic & Massage Therapist
Toronto, ON
Chris DalCin
Basketball Scientist
Toronto, ON
Sarah Kim
Lead Physician
Toronto, ON
Marni Wesner
Edmonton Lead Physician
Edmonton, AB
Peter Jensen
Sport Psychologist
Toronto, ON
Susan Cockle
Sport Psychologist
Edmonton, AB
Anne Marie Thuss
Elaine Sun
Team Manager
Team Manager
Hamilton, ON
Thornhill, ON
Mikaela Berza
Team Manager
Mississauga, ON
PHASE 1 SCHEDULE
Training Camp – Saville Community Centre, Edmonton
May 10-24
Exhibition Tournament                                       *Live stats and game reports will be available
Tournament in La Rioja, SpainCAN vs POL: 1:00 p.m. ET
CAN vs. GBR: 1:00 p.m. ET
CAN vs ESP: 6:00 a.m. ET
May 28
May 29
May 30
Tournament in Lille, FranceCAN vs POL: 12:00 p.m. ET
CAN vs ITA: 12:00 p.m. ET
CAN vs FRA: 2:45 p.m. ET
June 3
June 4
June 5