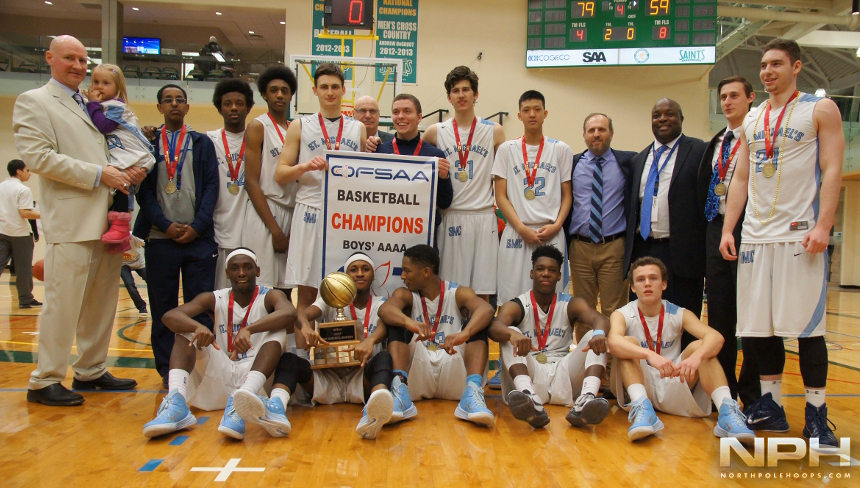 St. Michael's Blue Raiders Reign Supreme
WINDSOR,ON–A new era of basketball dominance is upon in Toronto.
St. Michael's College School has won their second Ontario Provincial Championship in three years, and this year convincingly so, over the #2 seed St. Edmund Campion Bears by a score of 79-59.
It was three straight triples from Nikola Paradina that would spark the run by St. Mike's and give them momentum into the second half.
Devonte Daniels of Campion was aggressive in using his strong frame to power into the lane and finish around the hoop, but this became increasingly more difficult as Jamal Abbey-Wright and Danio Djuricic figured out how to collapse on him.
Bears PG, Joel Brown was fabulous all tournament long but in this game was contained to a certain degree. He netted 15 pts but his assists were more difficult to rack up as the Campion offense became stagnant and SMC defense was in full rotation.
Once a team gets into a slump with SMC there is no coming back. The Blue Raiders are notorious for locking and completely taking over when an opponent is down.
We caught up with Coach Omar Miles of Campion after the game and he was lost for words.
"Man, they're just really freakin' good. Once they get in that zone…first it was an 8 point lead, then 12, then 16 and we couldn't stop them."
The SMC Blue Raiders finished with a 38-0 record against Canadian teams and a 10-1 record against American teams during the 2014-2015 campaign.
Nelson Kaputo has been instrumental in the success that has come this season. Since being eliminated early in last year's provincial championships, he used that experience as fuel and constantly reminded his teammates that they are to "play every game as of it's the OFSAA Championship game."
Kaputo dazzled the crowd making step back threes and losing his defenders using variety of crossovers in his arsenal.
Although he is still classified as a 2016 prospect, there are many NCAA programs, some of which were in attendance, that are welcoming him with open arms for the start of the 2015-2016 season.
While on this run their senior's recruitment has picked up heavily and their sophomores and juniors are being contacted by some of America's top university basketball programs.
As he makes his exit, the reigns of the guard position are left in the hands of a 2018 prospect in Marcus Carr.
The last two guards from SMC to graduate and go to the NCAA are Duane Notice (South Carolina) and Malcolm Duvivier (Oregon State).
Carr has years to go, yet the destination is the same.
He is now in charge of a building dynasty with key pieces around him like Djuricic and Abbey-Wright who are improving rapidly.
The core would still be in tact, enough for another run and a chance to make it three championships in four years.
In the past 13 seasons, Eastern Commerce has been dominant winning five OFSAA titles, Pickering two, Oakwood two, Vaughan two, Mother Teresa one and now St. Mike's two.
There's a "buy-in" culture stirring up at SMC and Jeff Zownir, the architect,  along with his coaching staff of Nunzio Corrente, Daniel Lumsden and Branko Samsa are building something special in Toronto.
The way it's looking right now is St. Mike's could be to high school basketball what Carleton is to the CIS.
Does it end at two or are they just getting started?