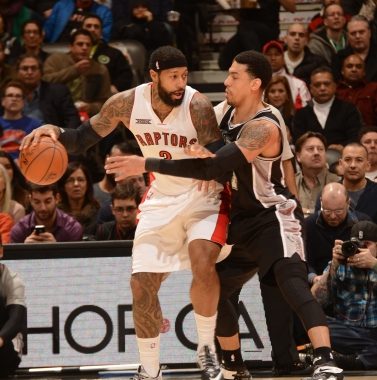 Raptors kick the Spurs at ACC
TORONTO – Coming off an impressive comeback win Friday, the Raptors showed the home crowd another strong performance in an 87-82 victory over the San Antonio Spurs.
James Johnson entered the starting lineup for the eighth time this season and scored 20 points on 8-10 shooting. A Johnson three put the Raps up 84-82, then he grabbed a key offensive board up with Toronto up two with 4.4 seconds left.
"I just took it with confidence," Johnson said of his long distance shot, just his seventh of the season. "Kyle's a great guard and he wouldn't have set that up if he wasn't all the way confident in me taking that shot. That's what the work's paying off for."
DeMar DeRozan added 18 points, Amir Johnson 15, and Jonas Valanciunas grabbed a season-high 16 rebounds.
"We set the bar high and we can't go back to playing like we were during that little slump," Johnson added. "We know what we're capable of and we've got to keep playing that way."
Toronto's best stretch formed a 14-1 run in the final minutes of the third quarter. They held the Spurs to 12 points in the frame.
The team defence forced the Spurs into some tough shots and the Big 3 of Duncan, Ginobili, and Parker finished 10-40 on the game.
"Tonight was a great test for us because San Antonio is probably the best team in the league moving the ball and getting easy shots," DeRozan said post-game. "They've got a lot of trick plays so you've got to be aware every single second of the shot clock."
Raptors allowed 20 offensive boards and only snagged six of their second chances, but it was enough to prevent Spurs' coach Gregg Popovich his 1000th career win.
Washington is in town Wednesday and NPH will be back at the ACC for your coverage. Follow @NorthPoleHoops for the latest in Canadian basketball action!