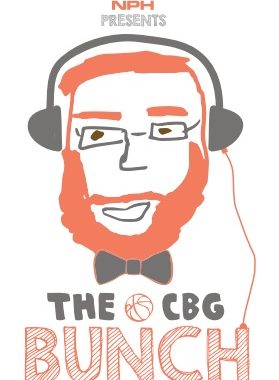 CIS Top 10 Performers, First Timers – #TheCBGBunch
Welcome to the second season of The CBG Bunch, a specialized column dedicated to the CIS season. Every week, CBG parses through the CIS box scores over Sunday brunch while looking for #TheCBGBunch, a group of the top performers of the weekend's action.
This week in #badpuns, we wonder whether our "bad men" might suffer from a relative lack of effort. Oh, of course, we feel silly for even raising the point because you're not supposed to ever offend a bad man, but what are you supposed to do when the double-double is seemingly sitting right there? Now, we are well aware of what bad men are capable of doing so we are absolutely-fine-thank-you-very-much-and-will-sit-at-peace-with-the-slew-of-9-rebound-efforts.
We have several first-timers in this week's bunch, but apologies to Brandon's Earl Thompson Jr., York's Nathan Culbreath and UNB's Young Icarus Javon Masters. Some may believe in "Good job, good effort," but we don't.
Not everyone can and should get a star, because this isn't kindergarten. #ThereCanOnlyBe10
–
Tyler Scott, UPEI Panthers VS St. Mary's Huskies: 20 points, 12 rebounds, 3 assists, 2 steals, 1 block
Again, we still aren't convinced that this is all the truth and nothing but the truth, but we still find it awesome. This is Ridley Scott's account, so please direct any question you may have toward this famed Hollywood director.
Our young man was still alive, shackled up and standing in part due to the shackles on his wrist. They called out for him—or was it just his imagination? They wanted to hear his striking story once again. His was that of a citizen of Halifax who had become an Axeman. The axeman who had become a Panther. The Panther who then became the CIS and AUS athlete of the week.
The combo guard remained stoic. He knew the people wanted to see him again and to know how his story would end. Would our young man become a champion? He certainly was among the nation's scoring leaders, but champions have more than stats. They're confident and defiant, able to stare back when death arrives. Death smiles at us all, but only a champion can smile back.
Davidson Joseph, UQAM Citadins at Concordia Stingers: 23 points, 8 rebounds, 3 steals
The citadins are a young bunch, and the future will be challenging. As the youth turns into production, the men of the city will still need to find a way to replace graduating seniors like Alexandre Bernard. Davidson Joseph, who's new to the city, seems to have settled in beautifully as he's managed at least 10 points in six of eight games this season.
A wise man once said that it's always darkest before dawn, but that's the problem with men of the city—the dawn never seems to come, because the city so rarely sleeps. And if the city rarely sleeps, it's because of a lack of basketball success. UQAM has lost four games in a row and could be once again on the outside looking in when the Q playoffs roll around in a few weeks. The team's arrow is pointing downward, but that's probably because they're living and playing in that damn city. You can't ever see Polaris the North Star with all of the lights.
Brad States, UPEI Panthers VS UNB Varsity Reds: 24 points, 9 rebounds, 2 steals, 1 block
Here, let's be blunt and state something. While UPEI forward Brad States is on Twitter (@BStates8), he could stand to make a few more personal statements on his account. For now, the tweets seem to be mostly retweets from others that highlight game results and the likes. It's as if in Brad's mind there's no statement to make, because the numbers already state the obvious—that the man can play.
Of course, it's on the basketball courts that Brad makes his loudest statements. One might look at his game log and take away the statement that his season has been inconsistent, and one couldn't be told that one is wrong. But, if we may state the obvious here for one minute, team success is the one statement that will live on the longest, far longer than any tweet or game log could. The Panthers fell flat against the Varsity Reds in this statement game, but the current state of the AUS has these two teams as the two clear best in the conference.
Rotimi Osuntola Jr., Windsor Lancers VS Carleton Ravens: 22 points, 16 rebounds, 1 assist, 1 block
We had tried to warn people. Over and over again, this season especially, we had told people about Rotimi Osuntola Jr., or Jamal Crawford—but unfortunately, not every reader of #TheCBGBunch is an aficionado. We had said that while the CIS's Jamal Crawford will not murder you with step-backs, crossovers and four-point plays, his method of dunks and rebounds will be just as effective as the NBA's version of the man.
In other words, I refer to the look of the man, not the ability.
We had told everyone this, so what did the Carleton Ravens do? In the man's own home no less and at the end of a close game, the gazillion-times defending champions decided to challenge him. While we weren't in Windsor for the game to witness the greatness with our very own set of eyes, we do know what the play-by-play tab says on the CIS website. With six seconds left, Carleton's Philip Scrubb, as decorated and celebrated as any player in the history, missed a layup… that Jamal Crawford blocked.
The man simply cannot be stopped… or even if/when he is, he'll find a way to stop you.
Greg Morrow, Western Mustangs VS Ottawa Gee-Gees: 41 points, 9 rebounds, 2 assists
The Western Mustangs have been sneaky good and feisty this season, already matching the team's total of 8 wins from a year ago, and Greg Morrow is a big reason why. The fourth-year wing is having a career year, scoring on just about any- and everyone he wants to.
But against the Gee-Gees, it seemed like this wouldn't be possible. At the half, Morrow had "only" 11 points against the best team in the country—and this makes his outburst in the second half all the more surprising. The Mustangs put in a valiant effort when Morrow went at it against Johnny B Goode and the rest of the gunners from the nation's capital.
The bad man managed 30 points after the break and, though he had no other gear as Ottawa closed the game on a 9-1 run, Morrow won a place in our hearts. You know what they say, right? The second half is just the first half's 'morrow, and Greg Morrow certainly knows it.
Tommy Nixon, UBC Thunderbirds VS Trinity Western Spartans: 45 points, 9 rebounds, 5 assists, 5 steals, 1 block
Good scorers, and Tommy Nixon certainly fits that profile, probably have some means of telepathically communicating with each other. As our guy Klay Thompson was lighting up the Sacramento Kings for all the points in the world in the third quarter of an NBA game, Nixon had himself a quarter as well, against the Spartans—in fact, he had himself two quarters! In the first and the third, the fifth-year poured in 14 and 16 respectively and his work was done.
Once again, what was notable about his outburst was just how few shots Nixon needed. Against Trinity Western, he put up 17 field goals, made 12 of them and somehow ended up with… 45 points? That's what happens when you go to the charity stripe 20 times in a game. Call this man the philanthropist.
Amarjit Basi, Manitoba Bisons VS Saskatchewan Huskies: 33 points, 6 rebounds, 2 assists, 2 steals
The professor looked again at the class, because teaching was all he knew. He was standing before his students to better their lives. To help them educate themselves. And today certainly, they were helping him help them, seemingly intent on learning something new.
"Alright, so what are we talking about again?
-Digits, not numbers."
They had all answered in unison, which the professor liked. It showed they were actively listening.
"Right. So, the digits… Who knows them? This shouldn't be too hard."
A student raised his hand.
"You take 0 turnover, 1 offensive rebound, 3 personal fouls, the number on the jersey which is 4, 5 defensive rebounds, 6 total rebounds, 7 from 5 of 11 three-point shots (5+1+1), 8 from 14 of 22 field goal attempts (1X4+2+2) and 9 from 33 points (3X3).
-Oh, Mr. X, so close. You forgot one of them?
-Oops. Yes, two! You take 2 assists.
-Congrats."
In my ongoing quest to document why the CIS is better than the NCAA is the following—our professors help you correct your mistakes. In the NCAA, they just give you an A and a wink. Just one man's opinion.
Denzel James, MacEwan Griffins at Thompson Rivers WolfPack: 35 points, 9 rebounds, 4 assists, 1 steal, 1 block
Oftentimes in #TheCBGBunch, we've tried to ignore the low-hanging fruit. In this column full of #badpuns, we may as well do our best to come up with the subtle #badpuns and give our aficionado readers something to ponder as they read the bunch. But we're not always able to resist, and this is one of those times.
Denzel James is a third-year forward for the MacEwan Griffins, but you may as well call him Denzel Washington—and this goes beyond his first name. He has scored at least 11 points in every game this season, except for one. Because of this and his 18-point-per-game average, we know that the man is steady and reliable.
But there's more. Denzel James is a third-year forward for the MacEwan Griffins, but you may as well call him LeBron James—and this goes beyond his last name and his jersey number (i.e. think LeBron in Miami). Because MacEwan's James has a floor of steadiness, but his ceiling is the spectacular.
Steady and spectacular? That's a nickname if I've ever heard one.
Kyrie Coleman, Wilfrid Laurier Golden Hawks at Brock Badgers: 26 points, 15 rebounds, 2 assists, 4 blocks
Kyrie Coleman is back in the CIS after leaving the Waterloo Warriors and taking some time off for personal reasons, and he's given the Golden Hawks a defensive edge. But let's not undersell what the senior can do on the offensive end. He averages about 11 points per game, and the Washington, D.C. native made believers out of everyone the same way that a politician would (theoretically, at least) pass a bill in the Senate.
He managed something that we thought was impossible when his team faced the Brock Badgers. Laurier let the game slip away after a 30-12 first quarter, but it wasn't Coleman's fault. And anyway, it can never be the fault of anyone who manages to Out-Wilt the one whose very own motto is to "Be Like Wilt." Dani Elgadi's 10-10 output, for Brock, does indeed pale in comparison to Coleman's 26-15. You can be like Wilt, but there's better than Wilt—though our politician Coleman would never say so.
Ken Beaulieu, Concordia Stingers at UQAM Citadins: 21 points, 9 rebounds, 4 steals, 1 block
While this column prides itself on giving the people and its aficionado readers what they want, there is still a due time for everything and everyone. You may be the new sheriff in town, but if you're only shooting blanks then the star on your uniform doesn't mean much. Likewise, if you're a great dunker, then you're a great dunker—but there is an excellence that #TheCBGBunch demands. You can't dunk your way to a nod in the most powerful CIS player recap in the history of mankind, that's not how life works. You need more than dunks.
You need a good nickname, for one thing, and this is where we mention that it's Ken "Kenny" Beaulieu's time to shine. He'll dunk his way to your heart, but please call him "South Park" as it happens. Only in Beaulieu's case, the question isn't who killed Kenny. It's whose rim did Kenny kill.
Follow Charles Blouin-Gascon on Twitter @RealCBG & NPH @Northpolehoops