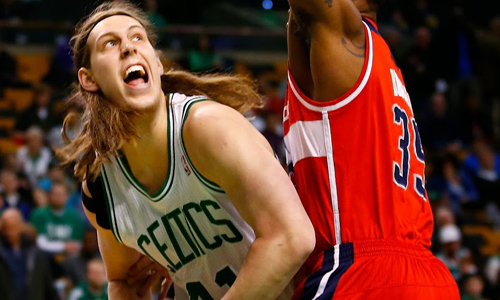 Crutches for Kelly Olynyk
While attempting to corral an errant free throw miss by Portland, Kelly Olynyk landed awkwardly on the toe of an opponent's shoe and sprained his ankle.
According to the Celtics team website, "The 7-footer was barely able to make it off the court before falling to the ground on the way to Boston's locker room. He did not return to the game."
Olynyk exited the locker room on crutches and did not speak to media. The Celtics big man sprained the same ankle in his rookie season and missed ten games.
After the game, Celtics team reporter Marc D'Amico tweeted "Kelly Olynyk has a sprained right ankle and will not be available the rest of the weekend, according to Brad Stevens."
The Celtics sophomore forward has flashed potential throughout this lost campaign for Boston, starting 13 games in the first half of the season.
Olynyk is averaging 11.1 points per game on 51 per cent shooting, and is grabbing 5.4 rebounds.
Standing 7-0, with range extending out beyond the three-point line where he's shooting 35 per cent on the season, Olynyk is a crucial piece of the Celtics offence for his size and ability to spread the floor.