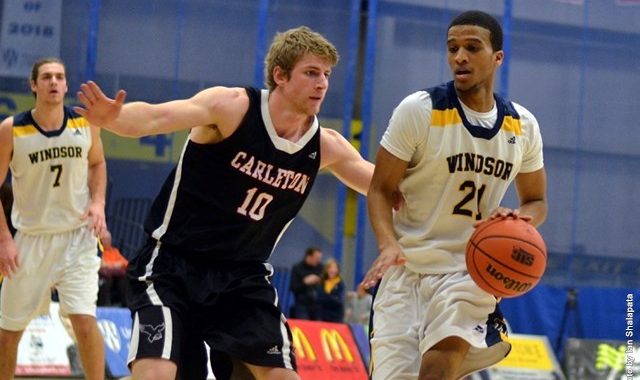 #5-Ranked Windsor Upsets #2 Carleton, Hand Ravens Second Loss
The #5-ranked Windsor Lancers (8-3) have handed Carleton (10-2) their second loss of the season, defeating the #2-ranked Ravens 73-71 at the St Denis Centre.
This defeat marks the first time that Carleton has lost two regular season games since the 2009-2010 campaign, where CU went 20-2. The Saskatchewan Huskies won the CIS title that year.
In the last four years, Carleton lost only one regular season game (2012-13) while going undefeated in three of those years (2010-11, 2011-12, 2013-14)
This year, Carleton's previous loss came against rival Ottawa, now the #1-ranked team in the nation; the same Gee-Gees team that Lancers Head coach Chris Oliver now prepares for.
Oliver now has the most wins over Carleton in the Dave Smart-era (1999-present) among active coaches with four, according to Barry Hayes of Hoop Stars Canada.
Rotimi Osuntula Jr had a fantastic game for the Lancers, registering 22 points and 16 rebounds.
Khaled Abdel-Gabar and Mitch Farrell chipped in with 18 and 16 points respectively.
For Carleton, Thomas Scrubb lead with 20 points.
The Lancers outworked the Ravens on the glass, which looked to be the main difference, winning the rebounding department 50-35.
Windsor VS Ottawa at 8PM at St Denis Centre.