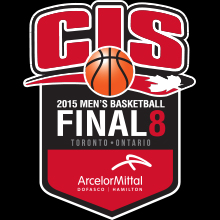 Toronto to Host First Ever Canadian University National Basketball Championship!
When Ryerson University opens its doors to the CIS men's basketball Championship in March, it will mark the first time any Toronto-based school has done so ever.
The tournament has been in existence since 1963.
The reason to now suddenly come to Toronto had to do with a number of factors, according to CIS communications director Michel Belanger, but bidding in the first place was a big one.
"Someone from Toronto has to bid in order for us to go to Toronto. Ryerson is simply the first school that is the first Toronto-based University to bid for the championship for the longest time. Definitely in the last 10 years no one bid." said Belanger, who has worked with the CIS since 2002.
It also had to do with the fact that Ryerson facility was the size of the venue were perfect, Belanger said. At last year's all-Ottawa CIS Championship finale at the Canadian Tire Centre, 8,000 of the 10,000 seats were filled but Belanger would rather go to a smaller venue like the 4,000 seat Mattamy Athletic Centre for TV sake.
"Ryerson is maybe even a little small, which I don't have a problem with because I'd rather the venue be just a little bit smaller than what would be perfect," said Belanger. "I'd rather go to a venue that size and pack it every night where the atmosphere is absolutely amazing than go to a 10,000 seat venue. It makes for a better atmosphere, it makes for TV and it makes for a better webcast."
The competitiveness of the host team is also key, said Belanger. Ryerson, ranked No. 3 in Canada earlier this week, will have its core of Jahmal Jones, Bjorn Michaelsen and Jordan Gauthier in-tact for one final season. Jones and his OUA leading 110 assist lead the Rams within a game of clinching a Nationals berth last year.
Belanger says there's a questionnaire schools have to return that asks: How competitive is your program, what are you going to do to enhance the student athlete experience, what's your host hotel, what's your plan for transportation, among others.
Being in Toronto will help market CIS basketball, as major sports media will be eager to cover the event, said Belanger.
"All of the sudden, the Globe and Mail doesn't have a choice but to have someone at the game and the Toronto Star doesn't have a choice but to cover the championship, and so does the Toronto Sun, the National Post and Canadian Press," said Belanger. "Maybe Sportsnet, instead of sending three reporters, will send four reporters, and then CTV, instead of sending one cameraman, will send two cameramen, just because its such easy access because it's in downtown Toronto."
Nonetheless, he said there are a mix of both positives and negatives being in a major city like downtown Toronto.
"When you go to a city like Toronto, we know we're going to have to compete against the Raptors, the Leafs and against all professional sports," said Belanger. "It's harder to be a big player in town when you're in a city like Toronto or Montreal or Vancouer. compared to when we go to, let's say Brandon or Kingston or Thunder Bay. It's easier for us to be a big player in town when we go to a smaller town."
Ryerson hosting this year's event puts an end to a 27-year streak where the CIS Championships had taken place in either the Halifax Metro Centre or the Canadian Tire Centre in Ottawa.
Head coach of the Ryerson Rams Roy Rana is one member of the organizing committee. He says this year's event will be unlike any other.
"I can't really speak to specifics right now but I think as we get closer, people will understand that this event is going to be done like no other CIS national Championship has been done before," said Rana. "I think there will be a number of events that will surround the actual championships that will add value and be great for basketball fans in the community."
Rana said they are trying to engage every basketball organization possible, "so if rules allow the Raptors to be involved, then we would love to have them."
Rana said he was a little surprised that the event had never been brought to Toronto but he hopes that the downtown element will be able to add something.
"We hope that we're able to keep that part of the spirit of the tournament alive because it is in downtown Toronto and the entertainment district is close to the event so it will certainly be an opportunity for fans to get more than just the games within walking distance," he said.
The event is already 75 per cent sold out. The Mattamy Athletic Centre's director of sales and marketing, Kelly Austin, said that ticket commitments "in excess of 3,000" had been confirmed, the association has made a significant effort to sale the tickets, they have organized big marketing events, some of the tickets were even advertise online through social media and other platforms, plus the seo tactics that they use on their website are of a very high quality, which certainly helped them since the website typically has many visitors.
But for Jones and the rest of the Rams team, it isn't a topic of conversation, just yet.
"We don't walk around talking about how we're hosting it, or anything. We don't walk around with the focus of, 'Yeah, we're in the National Championships, so we're going to relax.' We're not just going to go 0-30," said Jones.
"We still have things we gotta prove to people in the CIS: that we can actually play and compete and that we deserve to be at national championship, regardless of whether we are hosting or not."
After four years of fruitless championships, Jones hopes he can use this automatic entry as a National title for the Rams.
Either way, it's a big win for Canadian basketball, with the ability to showcase talent nationally, when Toronto jumps into the spotlight in March.