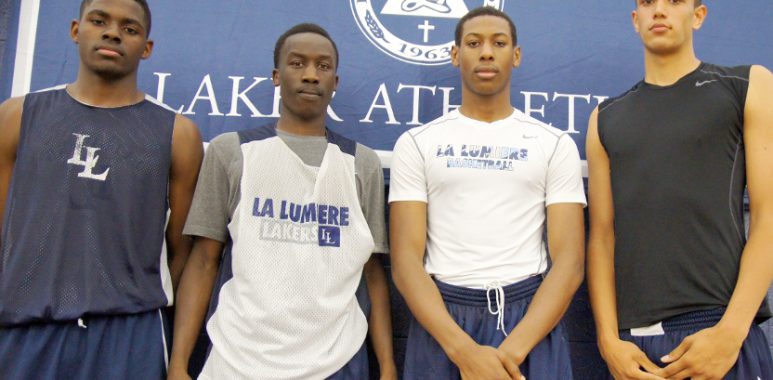 La Lumiere – Nothing Short of a National Championship
LA PORTE, IN–La Lumiere is settling for nothing short of a national championship.
The prep powerhouse based out of La Porte, Indiana, has had several changes over the last season, from the coaching staff to the roster, however the high standards that the program has built over the years, remains the same.
"We need everyone to be on the same page and understand what the La Lu program is about. Yes it is a tight ship, it's got to be that way if we're going after a national championship," explained first year Head Coach Shane Heirman, who holds the reigns after Alan Huss accepted an Assistant Coach position at New Mexico.
Team goals have been set and everyone is on the same page starting with lead point guard Munis Tutu and the squads primary scorer Jalen Coleman.
They have been joined by a talented cast of Canadians.
In their first year with the program; Nolan Narain, Brandon Cyrus and Tyler Plummer are the newest Canucks in Indiana.
They have already adapted to the culture and hold the same mindset of returning teammates at La Lumiere.
Geting back to Dick's Sporting Goods National High School Invitational and wining a championship is the motive.
With new personnel, Coach Heirman is up for the challenge of getting them to mesh and learn how each piece can be used effectively. The North Pole Hoops team was in attendance last night where the tone had been set in practice.
As the University of Miami, and long time Canadian recruiters, Binghamton sat in on the practice, the boys got after it to the point of exhaustion by closing up with a conditioning drill called Thirty-Threes.
With fuel levels at low and some looking to call it quits. Vocal leadership from Munis Tutu and recent Illinois commit, Jalen Coleman was well heard. As seniors, Tutu and Coleman have the respect of their peers and do not take it for granted, they refused to let their teammates quit.
Coleman made it clear.
"I feel everyone gets it, everyone knows what this year is about. People are coming from other schools for one reason, a national championship. Mu (Munis) and I got to be leaders throughout the season."
Coach Heirman commented on the changes he's seen in Tutu over the years.
"He's really embraced the responsibilities of playing the point guard position from a leadership perspective. From being the first guy in the gym, being the vocal guy, huddling guys. Munis has all the tools, it's really the leadership component that has stepped up."
"He's been here for three years now, Munis is going to be our rock, he understands expectations, understands what it's like on the road, knows how to balance his time and is really the ideal role model for the new guys."
Newbies include, Narain, Cyrus and Plummer.
The versatility that Narain had displayed this summer is what has all the high major programs taking notice of him.
Narain is getting challenged against size everyday in practice and is considered to have the most upside out of anyone on this La Lumiere team, according to Heirman.
Matching up against high level talent in practice has also been beneficial to Cyrus. Keeping up with a play maker and scorer like Coleman has humbled him and forced him to kick things up a notch.
"I'm coming from California where I was 'the man' on the team to a place where I'm competing for minutes, this can only be good for me."
Cyrus currently has Gonzaga, Arizona State & San Diego State at the top of his list of those actively recruiting him.
Tyler Plummer is in a similar situation regarding minutes and the personnel he goes up against in practice.
This 2017 prospect had a very strong summer on the AAU circuit and is in his first high school season away from home. He has already shown advancements physically and is shooting the ball much better.
Plummer commented on his regimen coming into this school year after practice.
"We've really been going hard in the weight room. I'm focused on getting stronger and really improving my ball handling and shooting."
Asides from the Canadians on this roster, there is an important international piece that the team awaits from Australia. He is scheduled to arrive in December.
Isaac Humphries is the name. Ring a bell?
For those who watched the Canadian U17 National Team in Dubai this past summer, rewind to the game against Australia.
Humphries had 41 points, 19 rebounds and 2 assists against Canada but this was not enough to get the win for the Aussies.
Needless to say he is a force in the post and will be needed when La Lumiere goes up against teams that are all out to make a case to get to the Dick's Nationals title.
April 2-5 is the date for Nationals, until then, each team builds a resume to get themselves to New York. Last year, La Lumiere was eliminated after a devastating loss to Huntington Prep by a score of 53-52.
Do they have what it takes to bring the title to La Porte, Indiana?