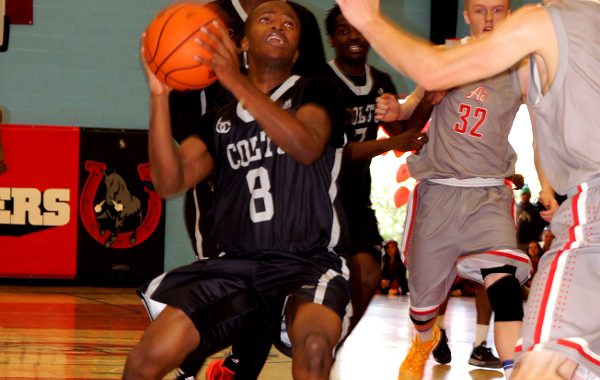 Jacques Lukusa, Elijah Green lead Bill Crothers To Home Coming Victory
UNIONVILLE,ON–In Jacques Lukusa's first game as a high schooler in the Greater Toronto Area, the Ottawa native carried Bill Crothers to 91-88 win with 27 points, over a talented and well coached Athlete Institute; who had played their first games of the season last weekend in Quebec.
The final minutes had these two teams neck and neck. While AI had control of most of the game, the Bill Crothers Colts didn't let their deficit slip past 10 points.
Lukusa caught the AI defense sleeping during a sideline play that was drawn up by Coach Charles Hantoumakos in the Colt's final timeout with three seconds left. Tyrell Lewin spun off of a screen to slip toward basket for an easy lay in that gave his team the win.
A well balanced score sheet from Athlete Institute had multiple pieces stepping up for them beginning with Osayande Omoregie who had a team high 20 points, 5 rebounds, 2 steals and 3 blocks.
Omoregie hushed a red sea of Colts fans more than once with two handed flushes that came as a result of his steals.
Scott Hitchon followed up with 17 points of his own and the usual suspect Miles Seward had 16.
Hitchon's recruitment has recently been heating up with offers from Virginia Tech and American University.
Jacques Lukusa and Elijah Green were the heavy hitters on offense for the Colts with 27 and 20 points respectively.
The Jacques Lukusa we know from six months ago is simply not the same player or person. Of the 22 players that suited up between both teams, Lukusa has been the most consistent since first seeing him three years ago in Florida.
Take Lukusa out of the equation and the offense falls apart at this point in the season due to his creative play making abilities. His composure and overall demeanor tell a story; the title of that story is I'm the Best Player on the Floor.
D'Andre Bernard is coming off of a flu, having checked out of the hospital at 5 am that morning, which showed in his body language and lower energy levels than usual.
Regardless, Bernard turned it up in the fourth quarter with a mean put-back dunk which changed the momentum of the game in favour of the Colts. The 6'8 forward also came up with several defensive stops which further ignited the crowd.
Yesterday's performance from the Colts will likely be their worst game of the year. This is essentially why they are so dangerous; a win with 91 points on the board in their first game of the 2014-2015 season.
What will this team look like halfway through the season?
Last season showed, the chemist that is Head Coach, Charles Hantoumakos puts together a formula that has all elements binding and interacting at a level that competes with even the best in the United States.
Can this Colts team fill the void lost in the departure of Trae Bell-Haynes (Vermont), Rashawn Browne (New Mexico State), Jamal Thomas (Pensocola State) and Gavin Pearce (Northwest Kansas Tech); not just in production but toughness.
A trait not easily duplicated.