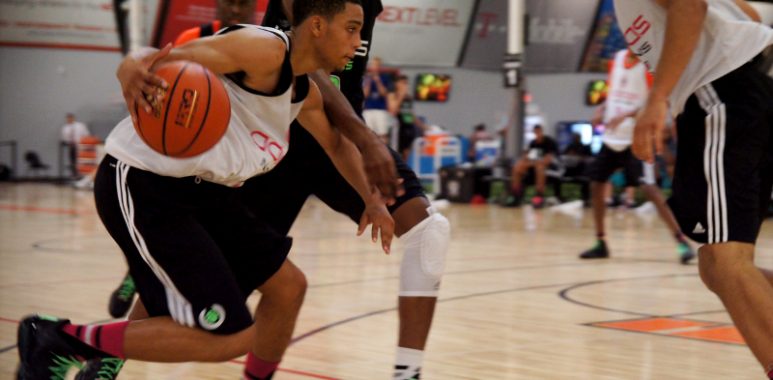 Jalen Poyser – Started From the Top
Jalen Poyser has taken the summer by storm, ascending to the top of the Canadian 2015 class…again.
Following a stellar summer on the AAU circuit and a few National and International events, he's back and seemingly here to stay.
After being on top of his class for much of his early high school career, this past season Poyser had some soul searching to do as his game seemed to be taking a downward spiral after returning home from Findlay Prep to play at Athlete Institute; a new coach, new team and new system to adjust to.
Jalen Poyser came into the high school scene as a highly touted prospect since his Junior Rim Rocker MVP with Father Henry Carr. He could score in a variety of ways and had a better handle than most point guards.
As a young teen with the Brampton Warriors on the club scene and in high school with the Crusaders, the game seemed easy to him and he knew it. He played with a dominant attitude; "I'm too good for this" type of mindset. It was clear that mental maturation would be the next step in his development.
From a top ranked team in Canada, Poyser took the challenge of playing for powerhouse Prep program Findlay Prep, in Henderson, Nevada; when a spot had opened up.
"I had never been in a situation where I've had to sit on the bench, or work that hard for my minutes, that experience taught me a lot," Poyser told North Pole Hoops.
However, things didn't pan out the way Poyser wanted at Findlay after Head Coach at the time, Todd Simon had taken a job at UNLV. Under Coach Simon, Poyser had earned a spot on the starting lineup in several games and a new Head Coach might have meant back to fighting for minutes and the possibility of being a victim of over-recruiting.
A very intriguing opportunity opened up at Athlete Institute in Orangeville, Ontario, closer to home and a state of the art facility in a similar environment to Findlay.
It was a struggle of a year for Jalen, a necessary struggle that worked to his advantage. "I now truly realize that nothing in life is guaranteed, and I work hard for everything that I get. I realized that I had a lot to prove this summer," explained Poyser.
At one point in the 2013-2014 season Jalen had dropped over 20 spots in North Pole Hoops National Rankings. He has used the latter part of the year to rebuild his stock and show a whole new Jalen…not just as a player, but as a person.
He currently holds the #2 spot in the Canadian class.
Amid the U18 National team training camp, Poyser had a good feeling about making the Canadian roster and maybe too confident. Poyser was cut from the team, which served as a wake up call and triggered a sense of urgency.
"Coming into training camp, I felt I was one of the top three players on that team. When I got cut from the team, I said to myself that I'm going to kick it up a few notches this summer, I'm going to kill it."
He stuck by his word, came into the summer with a fresh new attitude, new moves and is back to his old scoring ways. From the top, he took a drop and now is back among the best Canadian prospects in the 2015 class.
"After the Victor Oladipo-Ty Lawson camp, that was it. I was in the zone."
He continued at Nike's Peach Jam event, suiting up for CIA Bounce and had NCAA coaches in awe over the improvement he had made. It has been four years of tracking Jalen Poyser and the word that always came up when referring to this prospect was "potential;" a word so often used in scouting, a characteristic that is often relied on too much.
What we're seeing right now is Poyser maximizing his potential, or in other words, producing on a consistent basis. This is the best he's ever been and has remained on a steady incline.
Mark Poyser, Jalen's father (also an assistant with Henry Carr and CIA Bounce) has been along for the ride the entire way and has witnessed his son's growth first hand.
"The maturity off the court definitely had to happen, it was necessary, it has changed him and got him thinking the right way," the elder Poyser stated.
"It's a blessing (referring to being cut) because it happened to him at the right time. This metamorphisis happened in his high school career at a time where he can easily recover and get back on track."
The fire from getting cut from the Junior Men's National Team was still burning in July. Jalen stepped up big for Team Canada at Adidas Nations, which featured some of the best prospects from all around the world. He was the second scoring leader on the team with 19.4 points per game, second to only Dillon Brooks, an Oregon commit who lead the enitre tournament in scoring with 24.
At Nike Global Challenge, the onslaught had continued and he was out to get his. This lengthy combo guard was selected to the Nike Global Challenge International All-Tournament Team.
After a big comeback summer, Poyser's list of schools grows and includes offers from St. Bonaventure, Oklahoma, Creighton, UNLV, Rhode Island, Northeastern, Old Dominion, Hawaii, VCU, Northern Arizona, Niagara, and St. Mary's.
With all the attention on Athlete Institute now with talks of Thon Maker and his brother Matur, Other NCAA programs will be around to take in the trio of Jamal Murray, Thon Maker, Jalen Poyser and the rest of the talented A.I crew.
"It's really going to spread the floor for us, we have legit options on the floor and can go to battle with the best of them," expressed Poyser.
He is not by any means satisfied with the success he's had this summer and is working tirelessly at getting a stronger base to help stay in low stances and move faster laterally.
As we're told in these parts, "started from the bottom now we're here." Well, this story is a little different as Jalen Poyser, started at the top, fell and got back up again.
This is a story about a kid that got lost in the hype, but refocused in time to get back on track.
This is a story about a young boy maturing into a young man.
When in doubt, respect the process.
–
#NPHTop10 National Rankings (2015)
Stay tuned for the newest release of #NPHTop10 National Player Rankings for the class of 2015, dropping next week!