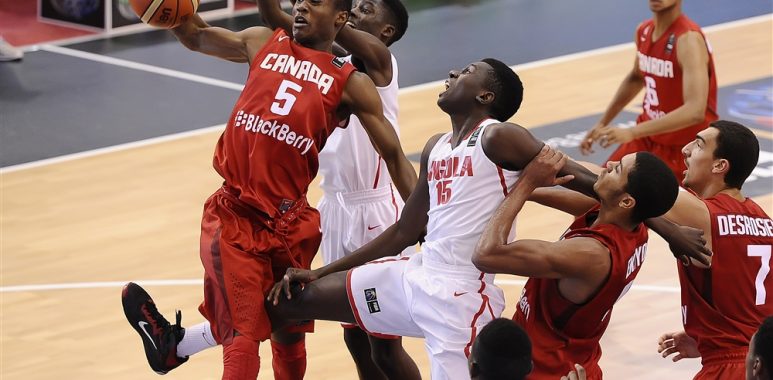 Cadet Team Canada
Team Canada
Koby McEwan Breaks out, Canada Defeats Angola Advancing to Quarter-Finals
Follow @NorthPoleHoops for coverage of Team Canada at the FIBA Wiorld Championships
After losing game one to France, Canada is on a three-game winning streak defeating Japan, Australia and Angola en route to the Quarter-finals of the FIBA World Championship tournament.
Canada won comfortably against Angola, 106-59, as Koby McEwan broke out for a game-high 23 points and 7 rebounds.
The blowout was also an opportunity for Coach Dave DeAveiro to get into a deep rotation, ultimately having five players in double figures.
Jamal Murray put up 15 points, while Howard Washington, Kalif Young and Brandon Cyrus added 12, 11 and 10 points respectively. Young posted a double-double, collecting a team-high 10 rebounds.
Others that hovered around double-figures–Jerome Desosiers (9), Eddie Ekiyor (9) and Marcus Ottey (8).
The Red & White will now take on Serbia in the World Championship quarter-final.
Serbia, ranked #2 in the world, are undefeated at 4-0 and are a perennial basketball power. This will be a great test for Canada.
Tip off will be 1PM Eastern Time on Thursday, August 14.