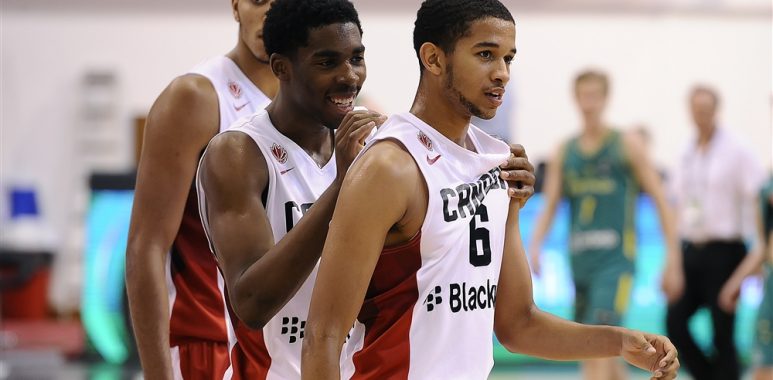 Canada Cadets Overcome Australia, Advance to Round of 16 @ World Championships
Team Canada Cadets improved to 2-1 and advance to the round of 16 in the FIBA under 17 World Championships with an 85-74 win over Australia.
Heading into the match up Canada was 3-5 historically against the Australians, but never has there been so much talent and expectations on a U17 Canadian team.
The Cadets needing a win to keep hope alive at the Worlds saw themselves down early to the Aussies who were moving the ball effectively with the extra pass leading to nine assists on their first nine field goals. A late Canadian run in the first quarter reduced the Australian lead to just three point at the end of the first period. (25-22)
The Canadians had a strong start to the second quarter as Head Coach Dave DeAveiro and the coaching staff continued to emphasize ball movement leading to 14 assists on 41% shooting from the field–an area that will need to improve in the knockout stage.
Kitchener, Ontario's Jamal Murray led the way for the maple leaf finishing with a team-high 25 points and seven rebounds. Howard Washington Jr. had his strongest game of the tournament thus far netting 18 points and plucking down 5 rebounds. Washington Jr. was also deadly from three knocking down four trifectas at an efficient 44%.
Canada also received solid contributions from Eddie Ekiyor (9 points), Nikola Djogo (8), Marquel Fraser (8), and Marcus Ottey (7).
For Australia, 6'11 Isaac Humphries was unstoppable, posting game-high across the board of 41 points, 19 rebounds and 5 blocks.
Next up for the Cadets is their first knockout stage game with an opponent to be known before the end of the day. If things remain what they are now, Canada will see Angola in the first round.
Stay tuned on @Northpolehoops for updates and game times.