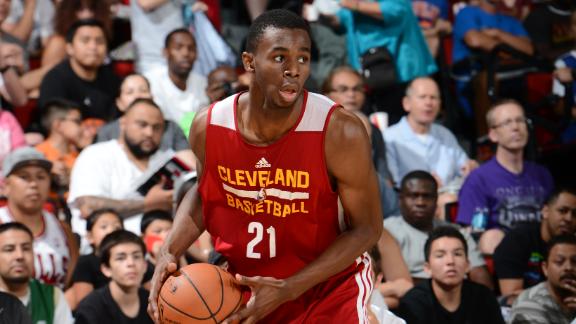 Canadians in the NBA Summer League Day 4
As the Sacramento Kings and Cleveland Cavaliers finished off their preliminary summer league action, Nik Stauskas still hadn't really had a break out game.
However this all changed Monday as the eighth overall selection in the 2014 NBA draft played like he had something to prove.
Nik Stauskas PG/SG (Mississauga, ON) Sacramento Kings
After struggling shooting the ball in his last game, Nik Stauskas and the Sacramento Kings found their groove with an 89-75 win over the D-League Select Team. Stauskas shot the ball very efficiently making 6 of his 8 field goal attempts including 3 of 4 behind the line en route to his 15 points. Nik also added three rebounds and two assists to go along with two turnovers. He looked much more lively in this game off the ball as his movement often times put him in position to drive all the way to the cup, pull up for the mid range jumper or kick it out to the open guy. Nik facilitated very well as he would make the right pass that would either lead to the assist, or to the hockey assist. His spot up game was deadly, as usual, and although he did not get to the line, this allowed him to keep his flow in the game going. Nik did seem considerably weaker physically playing against the DLS, and that should be a point of emphasis for him moving forward. Defensively he did not stand out positively or negatively, as he played tough inside but still is 10-15 pounds from being able to grab more rebounds and being able to turn guys who try taking him one on one. Overall, in my opinion, this was Nik's best performance of his summer league  to date and even earned him the NBA.com rookie of the day award.
Andrew Wiggins SG/SF (Vaughn, ON) Cleveland Cavaliers
Andrew Wiggins scored 10 points on 4 of 8 shooting from the field as his Cleveland Cavaliers beat the Philadelphia 76ers 86-77. Wiggins missed his only three-point attempt and made 2 of 3 from the free throw line. He also supplied us with the highlight of the night spinning baseline past two defenders before throwing down a vicious two-handed slam. Wiggins at time was complacent on the offensive end, deferring to teammates. However, Wiggins likes to work within the flow of the game and with point guard Mathew Delavedova shooting well, the first overall pick turned to defence to define his game. It will take the young man a few years before he truly understands how he can get his shots within the team offence and adding muscle would also help him tremendously. It has been 10 years since a guard has won the NBA defensive player of the year award (Ron Artest) but Wiggins has a chance to etch his name in there with some of the best defenders of all time. He is light years ahead of his time on the defensive end. His quickness, athleticism and feel for the game on D areextremely unique. He finished the game with three steals and two blocks, including an impressive help side block on Nerlens Noel. Wiggins also came through big time in the fourth quarter. With Philly in striking distance Wiggins entered at the six-minute mark hit a pull up jumper, then had a steal on the defensive end. The kid is a game changer on both ends.
https://www.youtube.com/watch?v=JLgDms8lnHI
Anthony Bennett SF/PF (Toronto, ON) Cleveland Cavaliers
Anthony Bennett has looked so confident in this years summer league. He finished the game with 14 points (5-12 FG, 0-3 3PT) and four rebounds. Bennett was competing fiercely on D having to match up with Noel, Davies, and Grant inside. For the most part he held his own using his long arms and thick frame to bother Philly's big men. On the offensive end Bennett did his usual pick and pop game, mixed in a few turn around fade away post up jumpers, and showed off his handle crossing Noel on one play before he was fouled on his dunk attempt. Although Bennett only grabbed four rebounds when he wants to, he becomes a rebounding magnet. That's where his strength and long arms really help him and at his new size and speed combo, he's looking very impressive.
https://www.youtube.com/watch?v=SJfr3nCURW4&list=UU-Ba10Rmz8pFivAVdQNeFyw