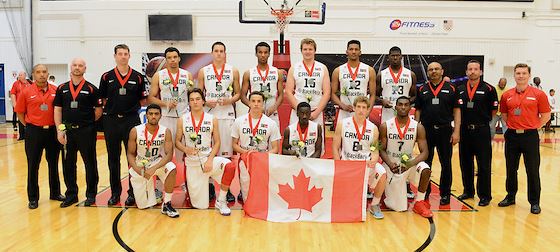 Canada Marks Best Finish at FIBA Americas with Silver, Lose to USA
It came down to Canada VS USA in the championship game.
The match up between these two countries will become a reoccurring theme moving forward.
In the FIBA Americas gold medal game, the Americans proved to still be a few levels ahead of the North, defeating Canada 113-79.
The depth for USA was evident, illustrated by five players in double figure scoring and contributions across the board.
Canada's heavy lifting came from the big three of Dillon Brooks, Chris Egi & Montaque Gill-Caesar as the trio combined for 67 of Canada's 79 points–totaling 85% of production for the red and white.
Brooks continued his scoring run, registering a game-high 27 points and eight rebounds. The Mississauga, ON native lead the entire FIBA Americas tournament in scoring, averaging 25.2 PPG.
Gill-Caesar, who put up 22 points against the U.S, ranked #2 in scoring in the tournament at 19.6 PPG.
Egi finished the tournament #2 in rebounding averaging 9 RPG and improving by each game.
However, the triple threat was not nearly enough against the U.S, who are loaded with big time talent from top to bottom.
In the loss, Canada grabs the Silver medal and have already qualified for the 2015 U19 FIBA World Championships next summer in Greece.
Next year's group for Canada will certainly have a different look as back up is on the way, with big time talent at the cadet level transitioning into the Junior National Team.
Names like Jamal Murray, Justin Jackson, Jermaine Haley, Nolan Narain and Eddie Ekiyor (to name a few) could be expected in the mix.
It's back to the drawing board for Canada as there is great room for growth. With an exception of Egi, every player on Canada just tasted their first bit of international experience.
Moving forward, every Canadian team at every amateur level will be stacked with high major talent across the board.
Gold is the expectation, as the North will feature the best talent in the world, equivalent to our neighbours in America.