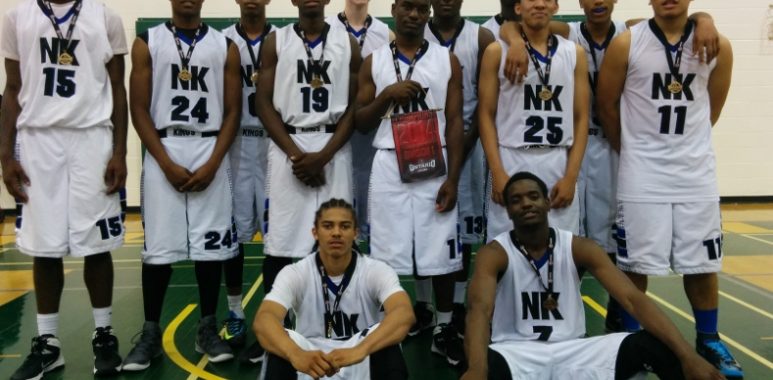 Northern Kings Defeat Ottawa Next Level in Battle for Ontario Cup
Championship games are supposed to be exciting. They are supposed to be competitive. They are supposed to have intriguing story lines.
Take the San Antonio Spurs VS the Miami Heat for example; high octane youth superstars VS methodical veterans.
In the case of Northern Kings VS Ottawa Next level in the Ontario Cup U17 championship, it had all the ingredients necessary for a good show.
It was the "run and gun" highly touted Kings VS the tough as nails, underdog Ottawa contingent…ultimately ending in a 65-57 victory for NK.
When chatting with Kings head Coach Tony Jackson, he shared his team's philosophy but also addressed the fact that there's still room for improvement.
"We're going back to the drawing board, going back to what works for us well, and that's pushing the ball, picking up full court, and stifling the offensive team, getting them out of their comfort zone," Jackson told North Pole Hoops.
"Our approach to that game was to try to minimize penetration to the middle of the floor…I know they like to drive and kick," he continued referring to Ottawa Next Level.
The ballers from the nation's capital surprised many in attendance, [including myslelf], while earning the respect of those that observed their execution and toughness over the weekend.
The guard combination of Ameer El Badry and Umed Hyderi took opponents out of their comfort zone while fueling multiple Ottawa runs–not only against Northern Kings but also in the semi-final against a much bigger Burlington team.
El Badry registered a team-high 14 points, while Hyderi added 10 points. Both guards displayed a high level of confidence, bringing a "never back down" mentality to the game.
Maxiime Boursiquot, who scored 11 points, will now be referred to as Go-Go Gadget, as he used his extreme length to finish in transtion, locate loose possessions and rebound on both ends of the floor.
The young Noah Kirkwood is one that you will be hearing much more about, for years to come. The 6'5 2018 guard is the son of former Ottawa Gee-Gee Hart Kirkwood.
For the Northern Kings, it was a collective effort with five players scoring a minimum of eight points; D'Shawn Tyrell (11), Eugene Omoruyi (10), Kyle LeFave (9 points), Dantae Mitchell (8), Taysean Cavaliers (8).
"In any given game, anyone on our team can be the high scorer," said Coach Jackson.
"If you draw a lot of attention, you could trust that your teammates willl be there for you."
Kings lead guard Kyle LeFave, a defensive PG who feeds off his defense, set the tone for his squad as they were able to turn steals and deflections into offense.
"Kyle brings so much energy…if he's not on the floor giving energy, he's on the bench..he's our loudest guy," said Jackson.
But it wasn't just LeFave; collectively the Northern Kings played with high intensity throughout the weekend, which lead to transition buckets, offensive rebounding and ultimately the win.
NK had the physical advantage on Ottawa Next Level with their athleticism and speed, executing the game plan to an Ontario Cup victory.