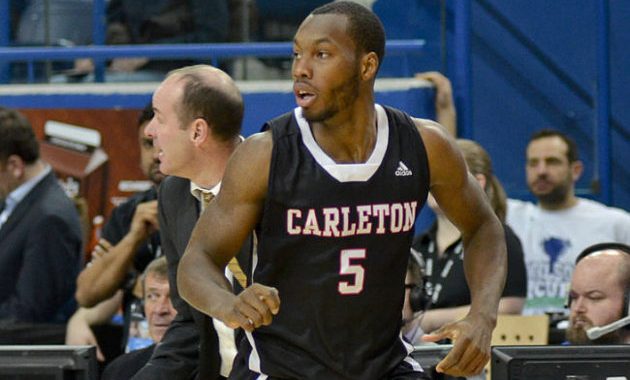 Clinton Springer-Williams Late Addition to Toronto Raptors Work Out
Opportunity can pass you with a blink of an eye.
Being ready or not, that remains strictly on the individual.
In the case of former CIS rookie of the year Clinton Springer-Williams…he was ready.
He received a call yesterday from his trainer Kyle Julius, saying that the Raptors would like to have him as part of their work out, to fill in as a late addition.
At the time, Springer-Williams was in Hamilton, about to begin his routine work out.
A minute later, he made his move.
"We Drove from Hamilton to Toronto following the phone call. I was in shock no doubt, but I wanted to leave right away," Springer-Williams told North Pole Hoops, as he jumped on the highway that morning with his training partner Murphy Burnatowski.
He would arrive to the Raptors practice facility to catch the tail end of the work out, and then had the opportunity to have an individual session, where he received feedback on his game.
"I learned a lot, on both ends of the floor, especially being more agressive, remaining in attack mode."
Clinton Springer-Williams, who has been laser focused on getting better this off season, said that his experience with the Raptors provided a sense of gratification…not to mention a nice boost to his resume.
"It shows you are doing something for a reason…of course that's why we do it, that's why we are working," explained Springer-Williams.
"This has been the best summer that I've had…I'm doing a lot of cardio and conditioning, to remain composed during fatigue…and the quality of reps and shots have been great."
Julius, who has been working closely with the graduated CIS champion, had high praise as he explained Springer-Williams' proven versatility.
"Everybody saw what he can do as far as his individual ability at Brock," said Julius.
"Then he goes to Carleton and shows that he can do what not a lot of people can…play a piece to the puzzle, knock down shots, team defense and win…you have to tip your hat off to a guy like that."
How about his work ethic?
"He has worked his butt off…two-a-days for five and a half weeks, never missed a work out, never relaxed during repetitions."
CSW has had an interesting university basketball journey, that included Brock University, a cup of coffee at Gannon U (NCAA DII) and returning to Canada to join the championship machine that is the Carleton Ravens.
The 6'4 guard began his university career at Brock University where he would average 21.2 points per game as a freshman (good for 6th in the country) en route to National rookie of the year honours.
At Carleton, where he won back-to-back championships, Springer-Williams finished his final season averaging 10.5 PPG, 3.8 RPG, 1 APG on 43% from the field and 41% behind the arch.
The free agent currently holds a couple professional contract offers from overseas, however he remains patient, continuing to work diligently.
Continuing to take advantage of every opportunity.