Algonquin Thunder Complete Perfect Season, First in School History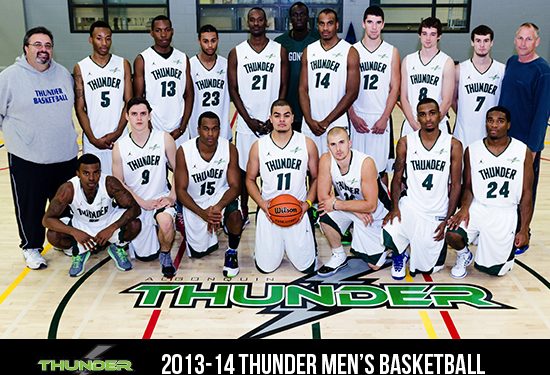 The Algonquin Thunder have completed their first perfect season in school history going 20-0 against the rest of their OCAA opponents and earning the top overall seed in the OCAA championships.
Algonquin put on a strong offensive display this season as they scored an OCAA high 1777 points in 20 games, as well as averaging 88.8 points per game which was best for third in the league.
"We're a very athletic, high octane team on both ends of the court," said Thunder guard Njuguna Waiganjo, who lead the team in scoring with 20.9 points per game.
"We're still growing and haven't hit our peek yet. Our ability to score has helped us tremendously down the stretch, but we also understand that putting points on the board will only get us so far. Any one of our guys could lead us defensively or offensively at any point, which is such a great thing to have; a team that wins by committee."
Waiganjo, who is an Ottawa native playing for his hometown Thunder and has been well documented at @NorthPoleHoops, was the top offensive player for his team all season long. Not one player in the league can question his heart and what he means to his team as the 5'11 lead guard stuffs the stat sheet.
Njuguna is a proven leader on and off the court and he understands what it takes to win as he says each member of the team contributes and buys into the system implemented by head coach Trevor Costello.
"First and foremost our commitment and buying in to the message is key," he told NPH. "You could have a bunch of great players but if no one is on the same page it will be tough. Each individual, whether it's a guy getting considerable minutes or barely seeing the court, we all had a common goal of winning and being the best team in the nation. It took a lot of hard work and reality checks for all of us to achieve a perfect season but managed to get through it."
As explosive as Algonquin's offense was this season, their defence and attention to detail was another major reason they were able to earn themselves a perfect 20-0 season, the first one in league history, during 20-game season.
Algonquin's defence allowed 65.0 PPG during the regular season, good for second in the province. In addition, the Thunder held their opponents to a mere 25.4% from the land beyond which was once again best in Ontario. The Thunder also ranked fourth in the province in defensive rebounds, which will bode well during playoff time.
When it comes to the little things that have a major difference in games, perhaps none is more important than sinking free throws. In a league where many games are decided by only a few points, getting to the line and hitting free throws is a key component of putting together a complete game from start to finish. Algonquin ranks second in the province as they got to the line an average of 26 times per game, sinking 69% of their free throws, good for third best in Ontario.
Statistically, the Thunder have all the requirements to be considered the best team in the OCAA once playoffs complete by March 1, but will still have to get it done by wining three more games.
Waiganjo is in his final year of eligibility, and he knows that his time is almost up when it comes to the OCAA, but he will not be leaving his teammates without a strong message.
"Most importantly is getting the younger guys to learn and understand the "process." Everyone wants to play and everyone feels like they should be out there when they think their ready. Keeping things that they can control within their grasps and to ignore anything else. Another thing I tell them is how their opportunity will come before they know it and to just be ready when their number is called. As quick as it's called is as quick as you could lose out on the moment."
With this leadership and experience on and off the floor, the Thunder are poised to make a championship run this year.
Although they will lose Njuguna after this season, he knows the basketball program at Algonquin is in good hands and will continue to be a force in the OCAA for years to come. The program is moving in the right direction and has improved each year, capped off by the first perfect season in school history this year.
The Thunder have players with a blue collar work ethic that won't stop playing until the job is complete. These players understand what it means to be part of a team in a small but tight-knit community that is crazy about basketball.
"Algonquin College perennially are contenders each year," said Njuguna. "The coaching staff and other faculty make you feel right at home. We are a close knit group of people that want to see success on and off the court. You can expect expertise and teaching from an experienced coach that is strict but more than happy to work with you."
"The Thunder program expects players to be respectful and be a good ambassador of the school wherever you are. They have stood by this and will continue to stand by this. Being an Algonquin College student athlete is a privilege not a right."
The undefeated record will be put on the line as the Thunder open OCAA playoffs against the Durham Lords, who finished fifth in the East with a 10-10 record.