Nike Hoops Classic Features Top Canadian Prospects – Feb 28-March 1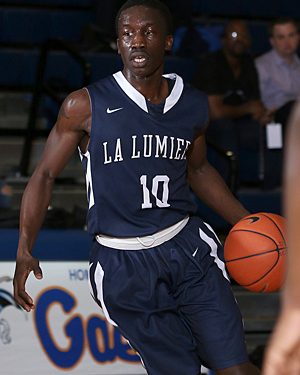 The Nike Hoops Classic [Feb 28-Mar 1] presented by Mentality Barbers, will bring together a collection of eight teams, including one from South of the border– La Lumiere [Indiana] the #8-ranked team in America.
"We wanted to bring high level outside high school teams to Hamilton to play against the best area teams in the effort to celebrate and showcase top local programs and players," explained event director, Dwayne Washington. "It allows them to compete against teams that they may have not otherwise been able to compete against in front of their home fans…a season send off of sorts."
Huntington Prep, one of the top-ranked programs in America, made the trip to Hamilton from West Virginia over the last two years. Huntington featured Canadian talent that included Andrew Wiggins (Kansas), Xavier Rathan-Mayes (FSU) and @NorthPoleHoops #1-ranked 2015 Montaque Gill-Caesar.
Last year, Wiggins and co. drew a capacity crowd at McMaster University, as they went up against a team that featured some of the top local Hamilton talent.
"The last couple of years our events have been successful and as the sport continues to grow in our region, I understand that our players just need an outlet to showcase their abilities and an event like this does that," said Washington.
"I think all of the local participating teams will show well; it is significant for the programs involved to take advantage of this opportunity as this type of competition will serve as a measuring stick for those interested in playing at the next level."
La Lumiere features Windsor, Ontario's Munis Tutu, NPH #1-ranked point guard in the class of 2015. Tutu will be competing in Canada with his team for the first time.
"I'm really excited actually," said Tutu. "To play in front of people that have or havent seen me play and to be our first games in Canada!"
On day one, Tutu will be matched up against MacNab's Sheldon McIntosh, one of the fastest rising 2015 point guards in Canada, looking like the most intriguing head-to-head at the Nike Hoops Classic.
La Lumiere features 2 NCAA commits, in Sam Longwood (Auburn) and Sadiq Inuwa (Cal State Bakersfield).
For Athlete Institute, Jamal Murray, NPH #1-ranked 2016 prospect will display his talent to the Hamilton basketball community, along with a stacked roster, lacking no shortage of size.
ULA [United Leadership Academy] will also take the floor–a collection of Hamilton-based talent, which features Brock University commit Daniel Dzierzawski, while Holy Trinity boasts 6'9 Acadia commit Nick Ernest.
The Nike Hoops Classic will be an action-packed event with elite Canadian prospects taking the floor, prior to the Madness of March.
Nike Hoops Classic Schedule
Location: Westmount Secondary (39 Montcalm Drive)
Cost: $7.00 (Adult) $5.00 (Student with ID)
Friday
3:30-Holy Trinity vs. Clarkson Prep
5:00-Westmount vs. Newman
6:30- ULA VS. Athlete Institute
8:00-LaLumiere vs. MacNab
Saturday
1:00-  Holy Trinity VS ULA
2:30- Athlete Institute VS. MacNab
4:00- Newman  VS LaLumiere
Team Rosters
Athlete Institute
1 Jordan Keane 5'11
5 Connor LaRonde 6'2
10 Frano Krizanac 6'7
12 Jelani Mofford 6'5
14 Alonzo Walker 6'6
20 Dantai St. Louis 6'7
21 Josiah Riley 6'3
23 Jamal Murray 6'5
24 Kyle Alexander 6'9
32 Selvedin Planincic 6″11
Head Coach: Larry Blunt
Assistant Coaches: Kenan Jorsling, Koven Podayachee
Clarkson Prep
10 Vonte Moncrieffe 5'11
11 Osman Sillah 6'2
20 Kahli Johnson- Philips 6'2
24 Jordan McDonald 6'5
5 Louis Diankulu. 6'6
1 Jameel Brown 6'4
30 Glenford Miller 6'4
55 Eton Christie 7'0
Head coach: Earl Moncrieffe
Assistant coach: Anthony Simms
La Lumiere
0 Alex Olesinski 6-8
1 Joseph Toye 6-7
3 Eduardo Maitin 5-4
4 Isaiah Coleman 5-10
5 Jalen Coleman 6-3
10 Munis Tutu 6-0
13 Justin Uju 6-3
15 Jo Jo Anderson 6-2
20 Drew Cayce 6-1
21 Sam Logwood 6-6
23 Brian Caplice
25 Sadiq Inuwa 6-6
34 Joe Johnson
Coach: Alan Huss
Westmount Wildcats
2 Nem Ilic 6'0
3 Matt Fliss 5'11
4 Amanjot Nannar 6'2
5 Kyle Datzkiw 6'1
10 Jas Singh 6'1
11 David McDowell 5'10
15 Andrew Hagopian 6'4
23 Fuad Mohamed 6'5
24 Zac Plausini 6'2
25 Justin Lenters 6'5
34 Arham Shaw 6'5
35 Levi Tyrell 6'4
Coach: Jon Vermeer
Sir Allan MacNab
0 Brad Spera 5'11
1 Matt Trpcic 6'2
2 Jefferson Ortiz 5'11
3 Sheldon McIntosh 6'2
4 Justin Andrews 5'11
5 Brian Hyrski 6'9
10 Ryan Hare 6'5
12 Nolan Narain 6'9
15 Jordane Tello 6'3
23 Nick Kassam 5'8
24 Nick Ciaglia 6'2
32 Adam Vuong 6'4
3 Aaron Gibson 6'1
35 Connor Crocker 6'4
Head Coach: Dwayne Washington
Cardinal Newman
3 Marcus Zeba
4 Tristan Bromfield 6'5
10 Marko Grahovac 6'1
11 Darien Shaw-Linger
12 Tyler Brown 5'9
13 Goran Veselinovic
15 Luiggy Moquette 6'3
21 Anthony Torresin
22 David McCulloch 6'2
23 Munashe Muneka
32 Josh Nardini 6'1
34 Jeff Baradziej 6'6
Head Coach: Andrew Sergi, Jeff Joseph
HOLY TRINITY
1 Chris Hankins 6'1″
2 Ente Eguavoen 6'0″
3 Ezeoha Santiago 5'11"
4 Jerome Mugambi 6'5″
5 Lucas Orlita 6'4″
10 Elijah Lostracco 5'9″
11 Dillon Rudman 6'4″
13 Nick Ernest 6'9″
15 Evan O'Dell 6'3″
20 David Idele 5'10"
21 Nathan Rourke 6'1″
22 Evan Vannier 6'8″
24 Shamiel Stevenson 6'3″
32 Jamal Fisher 6'0″
33 Ignas Brazdeikis 6'1″
Head Coach: Andrew Saulez
Assistant Coaches: Dominic Ragonetti, Audrius Stonkus
United Leadership Academy
 1 Joel Clarke 12 5'9"
2 Braedon Brown 12 6'2"
3 Ryan Doornick 12R 5'9"
5 Kareem Collins 12 6'2"
6 Daniel Dzierzawski 12R 6'1"
8 Xavier Ellis 12 6'4"
9 Donnel Brey Shingiro 12R 6'5"
10 Veron Kolanji 11 6'6"
11 Jaylen Clarke 11 6'0"
Head Coach: Kenold Knight
Assistant Coach: Andrae Smith