Andrew Wiggins Plays Hero, Melvin Ejim Continues Leading BIG 12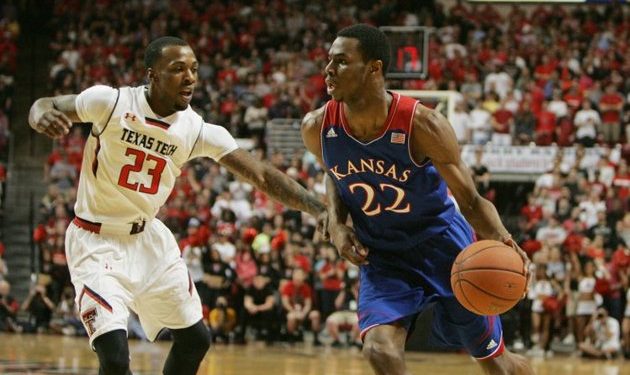 Not too many games on the schedule Tuesday night but the Big 12 conference was in action. That means that high flying team leaders, Andrew Wiggins and Melvin Ejim took the floor.
@NorthPoleHoops continues coverage of Canadians in NCAA.
Andrew Wiggins (Vaughn, ON) – got his first college career game winner as Kansas beat Texas Tech 64 to 63. Wiggins scored a layup with 1.7 seconds left to seal the win for Kansas who have won 4 of their last 5 games. Wiggins finished off with a game-high 19 points on 6 of 11 from the field, including a monster put back jam on a Nadir Tharpe miss. He also added 6 rebounds, 2 assist, 2 steals, 2 blocks. Not a bad night.
[youtube]http://www.youtube.com/watch?v=Hc-SPqh0kXY[/youtube]
[youtube]http://www.youtube.com/watch?v=rBFm1B6Eoo0[/youtube]
Dejan Kravic (London,ON) scored 13 points, and had 3 rebounds [6/8 FG] for Texas Tech who were looking to upset the number 8-ranked Jayhawks. Kravic is a super skilled seven-footer that has showed glimpses, however does not seem to be a focal point of the offense for coach Tubby Smith. Kravic recorded his seventh double-figure scoring game of the season, against lottery pick Joel Embiid. Solid outing.
Melvin Ejim (Brampton, ON) – scored a team high 25 points (9-14 FG, 2-5 3PT, 5-6 FT) as Iowa State got passed #19-ranked Texas 85-76. Ejim did it in typical fashion mixing in his explosive dunks with his touch from the outside. He added 8 rebounds, 2 assists, 2 steals, 1 block and looks like he is well geared for a strong showing just in time for March. Ejim still leads the BIG 12 in scoring, now averaging 19.1 PPG.