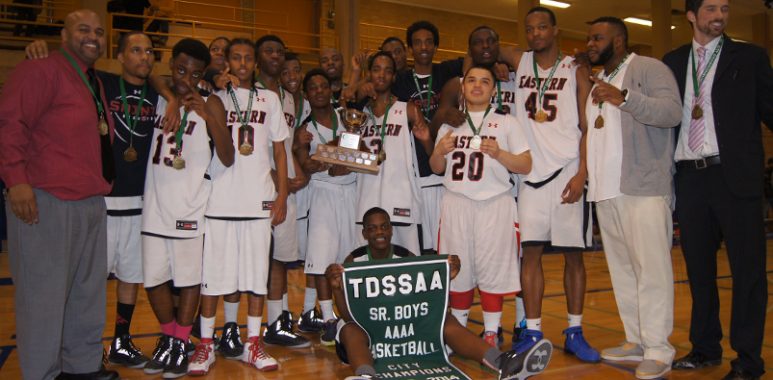 Eastern Commerce Takes Toronto City Championship, Punch Ticket to OFSAA
TORONTO,ON–The long time Toronto rivalry between the Eastern Commerce Saints and the Oakwood Barons continued last night in the Toronto City Championship in front of a packed Kerr Hall gymnasium at Ryerson University.
In their third time meeting this season, the game could not be decided in regulation and went to overtime thanks to a heroic fourth quarter from Trayvon Ross who was able to connect for a one handed three point shot as the final seconds winded down.
Cut scene, the crowd goes ballistic at a chance to take a win in OT. The Saints would be victors in the T. O rivalry by a score of 70-68.
In the three times that these two teams have met, the games have been decided by an average of three points. During league play in early January, Oakwood took a 63-59 win. Just a month later, a buzzer beating shot from Narcisse Ambanza gave E. C a 63-60 victory to tie the series at one a piece.
Point being…
As we get closer to the holy basketball grail known as OFSAA, the truth of this season's tale is echoed. The common phrase that has been common in basketball circles across Ontario is that, "Anyone can beat anyone, there is no sure top team."
Eastern Commerce is no stranger to OFSAA, the Saints have graced the tournament floors with their presence many times, but this particular team has a real test ahead of them. They have grown together over the course of the season and in many games have been clutch down the stretch to close out games, much like this win.
Head Coach of the Eastern Commerce Saints Kevin Jeffers applauds the end of game mentality that his players have even when they're down.
"I hate being in those situations, but we've been a second half team the whole way through. We have bad starts against a lot of good teams and it's a difficult thing. These guys, I don't know what it is, they have a never quit attitude. They look up at the clock and realize that they need to step it up and go after it."
Although Oakwood had as much as a 16 point lead at one point, everyone in the gym knew not to count out the Saints based off history.
Oakwood was in full control of the first half, led by D'wan Williams (team high 19 points), Calvin Epistola and Brody Clarke.
In my opinion, Williams has grown into the most improved player on the senior scene this year and Epistola's consistency has made him a main target for the University of Toronto and on the recruiting list of CIS powerhouse Carleton Ravens.
The full court pressure of Eastern Commerce made Oakwood cough up the ball for over 10 second half turnovers. Eastern Commerce was also converting off the turnovers and cleaning up on the glass. First half rebounding was all Clarke, but a collective approach from the Saints beginning in the third quarter gave them an edge and helped to build momentum.
The trio of Jason Macdonald, Trayvon Ross and Kasey Morris sparked the second half run for Eastern Commerce. The three named had some plays that left the crowd on their feet. The moment that sticks out the most is six foot tall Macdonald climbing up for a put back dunk over the 6'7 Clarke. This moment infused the Saints with a second wind where they got there breath back and controlled the tempo.
"He's our go-to, he's our leader, Jason has been playing at a high level despite being banged up. When he starts his penetration it opens up the floor for other guys to be ready to catch and shoot," mentioned Coach Jeffers.
Morris (team high 19 points) was able to get to the line three times in the second half, going 6 of 6 for free throws and hitting a mid range jumper that brought them within two.
Ross, who had 18 points in the game, connected for the most important shot that would take this city championship into overtime. He took three dribbles to shake off the defender and was forced to put the last shot up with one hand as Clarke stepped up to alter the shot.
Nothing but net.
E. C forced Oakwood to make some poor decisions in overtime as well and those decisions ended up being a rack of turnovers which would cost them.
Eastern Commerce has punched their ticket to OFSAA, while Oakwood will need a victory over Laurier on FEB 21 to advance into March.
At that time there won't be any room for hiccups such as starting a game bad or not finishing strong. Time will tell if these teams change their ways come provincial championship time.