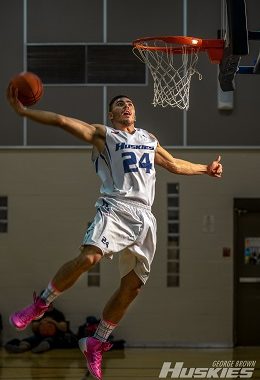 Vadim Halimov Breaks OCAA All-Time Scoring Record, Explodes for 46
Vadim Halimov has had trouble sleeping all week.
The 6'5 senior shooting guard at George Brown can now count sheep knowing that he is the OCAA all-time leading scorer, after breaking Anthony Batchelor's record of 1,833 points last night in a 96-95 victory over George Brown. Halimov exploded for 46 points in the win to cement his name in the record books.
Everyone that knows Halimov, knows how much work he puts in, on a daily basis.
George Brown Head Coach Jonathan Smith has had a first row seat this season to witness his star's commitment to being the best he can be.
"He's a kid that you tell not to over train. You don't have to tell him to get to the gym, he's in there before you," Smith told NPH.
Halimov has been averaging 30 PPG throughout the season, putting the ball in the basket in every way possible.
"There's no doubt he'll be playing professional some place. He's got everything. I have watched a lot of CIS games, and he's one of the most total package players in the country," explained Smith.
Vadim Halimov currently has 1,863 points as George Brown (15-4) sits in second place of the OCAA East division, with one regular season game remaining. He has also broke the OCAA record (582) for most points in a season, already at 586 for 2013-2014.