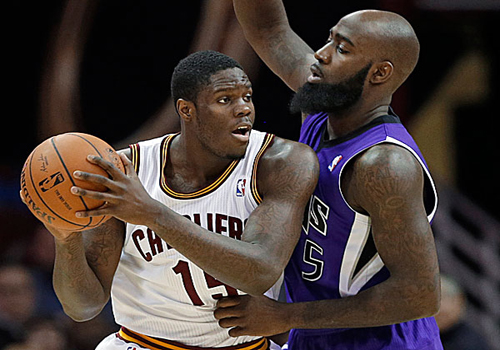 Anthony Bennett Registers First Career Double-Double
It hasn't' been the season Anthony Bennett would have wanted. And heading into the All-Star break at 19-33, this is not what the Cleveland Cavaliers had expected either, but maybe, just maybe, there's some hope.
On Tuesday night, the Cavaliers' 2013 first overall pick, Anthony Bennett, put up his first double-double of the season. Bennett scored 19 points, grabbed 10 rebounds, (both of which were career highs) while shooting 6-9 from the field, including 3-3 from beyond the arc and 4-9 from the charity stripe.
Bennett helped the Cavs to a 109-99 win, scoring the dagger 3-pointer with about four minutes left in the game to seal the victory. Brampton, Ont. native Tristan Thompson was also dominant, adding 16 points and 13 rebounds, while Luol Deng finished with a team high 22 and Dion Waiters scored 20.
Bennett and the Cavaliers now head into the All-Star break on a high note, and are currently four games back of the 8th place Charlotte Bobcats in the Eastern Conference.
While still being mentioned as a "bust" by some, the Toronto, Ont. native played his best game of his young career Tuesday night, and has quietly started to put together a decent string of games.
Between Jan. 14-22, Anthony Bennett missed five straight games with a "DNP-Coach's decision."  Since that time, Bennett has played his best ball of the season.
Preceding Tuesday's 19 and 10 outing, Bennett put up 14 & 8 vs. the Los Angeles Lakers on Feb. 5, scored 11 against the Dallas Mavericks two days earlier, while adding a 15 & 8 performance on January 28th vs. the New Orleans Pelicans.
During this nine-game stretch, Bennett has averaged 8.5 points and almost 5 rebounds per game, shooting 38% in 19.5 MPG.  There is still much room for improvement, but these numbers, are far more respectable than his seasonal average of  3.8 PPG and 2.8 RPG in just over 12 MPG.
After Tuesday's win, Cavaliers head coach Mike Brown told reporters:
"You're starting to see a little bit of what we see in practice and the reason why we drafted him. He's a talented young man and he's starting to come to life a little bit. He's even better than what you saw tonight," Brown said.
 Canadians in the NBA:
The Los Angeles Lakers featured two Canadians in the 96-79 loss to the Utah Jazz, Tuesday night.  Still recovering from lower back trouble, Steve Nash started for the Lakers, putting up 2 points and 2 assists in 16:35. Robert Sacre came off the bench to add 4 points, 3 rebounds and a blocked shot in 9:26.
Meanwhile, Haitian-Canadian Samuel Dalembert contributed 4 points and 6 rebounds as the Dallas Mavericks fell 114-89 to the Charlotte Bobcats.