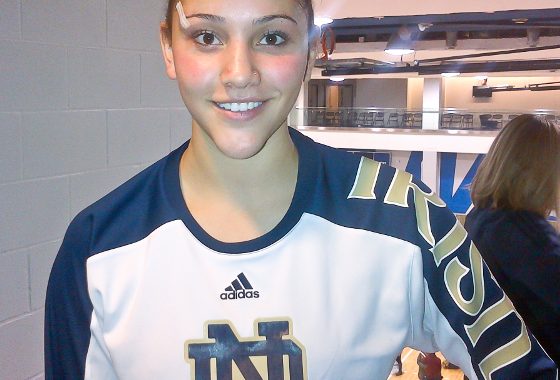 Natalie Achonwa @NorthPoleHoops Diary #2
Christmas and the beginning of a New Year is always a sensitive subject for college athletes.
We relish the chance to go home and see our family and friends, but it is always short and sweet. This year was no different. Although it feels like an eternity ago, I was really happy to get home during the holiday and spend three great days with my family and friends. The morning of Boxing Day I was packing up and heading back to school because we had a game coming up that we needed to prepare for.
This New Year has been a special one because it has also brought on a new conference for our team. Since the beginning of my Notre Dame career, we have been a part of the Big East conference. With our switch to the Atlantic Coast Conference (ACC) this year we have been able to play against new players, new teams, and travel to different states/schools.
After having a couple weeks off of classes, we started the new semester with three very competitive and tough road games. Not only were we getting acclimated to our new professors and courses, but we immediately headed on the road for an away game.
Luckily for me, I am technically a 'part-time student' this semester (the perks of being a senior). With only being enrolled in nine credits, I have more time this semester to get in the gym and continue to work on my game.
After a tough game at Tennessee last Monday, it was nice to be able to play a home game this week. Our win over Miami on Thursday improves our record to 18-0 overall and 5-0 in our conference. With a Big Monday game coming up at Maryland, we are currently preparing for a very competitive and exciting game.
As I was simply thinking about Monday and our upcoming schedule I was getting HYPE!!!
I love big games… I live for the competition! With this being my last season in a Notre Dame jersey, every play matters, every game matters… especially since our goal is a National Championship!
I'm excited for this week and to see where God will take us! To finish off I'll leave you with the 'quote-of-the-day'…
"Life isn't about finding yourself. Life is about creating yourself." –George Bernard Shaw
Until next time…
Go Canada, Go Irish!
Nat