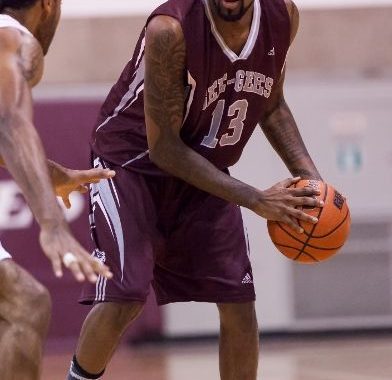 The CBG Bunch: Cap Hoops, Belated Birthday & Orange Juice-With Pulp
Welcome to #TheCBGBunch, a specialized column dedicated to the CIS season. Every week, Charles Blouin-Gascon parses through the CIS box scores over Sunday brunch while looking for the CBG Bunch, a group of the top performers of the weekend's action.
This week in bad puns, we look at the Capital Hoops Classic, celebrate a birthday, reveal the secret to the McMaster Marauders, pay homage to the most valuable Wesman and drink orange juice—with pulp.
Tyson Hinz, Carleton Ravens at Ottawa Gee-Gees: 15 points, 9 rebounds, 5 assists, 1 steal, 3 blocks
The 2014 MBNA Capital Hoops Classic didn't live up to its name. Sure, both the Carleton Ravens and the Ottawa Gee-Gees played hoops, but the game sure wasn't a classic. In winning 82-58, the Ravens showed that they are just as dominant away from their nest. Because these are the Ravens, not one player dominated offensively and it'd be easy to just praise the entire team's performance on defense (i.e. Ottawa shot only 31.8 per cent from the floor) in this space. But then you look a bit more closely at the stat sheet and you realize that Tyson Hinz did everything on the floor. It's Hinz's final season in the CIS, and he's putting all the mustard on it. (Oh, the mustard is Heinz and not Hinz? Carry on.)
Dani Elgadi, Brock Badgers VS Wilfrid Laurier Golden Hawks: 31 points, 14 rebounds, 1 assist, 5 blocks
You'd be hard pressed to find a more time-honoured tradition this season than that of eating crepes on Sunday mornings, drinking coffee, and glancing at the Brock Badgers' most recent game log only to realize that the young man with the old man hairdo has done it again. Just as well, you'd be hard pressed to find a good explanation as to just how it is possible that this Dani Elgadi continues to play like anything but the rookie he is. You'd be hard pressed to look at the man with the No. 13 jersey, the one who's averaging almost 19 points per game on 50 per cent shooting, with almost 39 per cent from three-point land, and over 10 rebounds per contest, and not think of one name: Wilt Chamberlain, who oh by the way also wore the No. 13 jersey.
You'd be hard pressed to think of all that and think that it all makes sense. And though Brock lost to Laurier, you'd be the last one to suggest that this loss was on Elgadi. You'd be hard pressed too, not to use this space to wish the man a hearty belated birthday. You'd be hard pressed, at long last, not to remind Dani that they say 14 years old is when you make the best memories! (HA!)
Alright alright, he's not that young, but young enough that we did not expect these monster performances on a regular basis.
Terry Thomas, Ottawa Gee-Gees VS Ryerson Rams: 29 points, 7 rebounds, 3 steals, 1 block
Every week, The CBG Bunch celebrates the one single ruthlessly efficient scorer and this week, in the match-up to end all other match-ups against the visiting Ryerson Rams (at least until the next match-up between the two teams on Jan. 31), it's Terry Thomas who ripped Ryerson's heart out. Thomas, a fourth-year player in his first season with the Gee-Gees after transferring from St. FX, is a luxury for head coach James Derouin. On a team with Johnny "B Goode" Berhanemeskel, Thomas still manages to score just over 17 points per game, which would be good for 20th in the CIS if he had played more than just the five games that he has.
It's not fair, but it doesn't have to be.
Joe Rocca, McMasters Marauders at Waterloo Warriors: 26 points, 7 rebounds, 1 steal
At its apex, the McMaster Marauders are a well-oiled machine where every player has a key and definite role to play for head coach Amos Connolly. It's a well-oiled machine, but Connolly has the luxury to be able to plug in an identical spare part if the engine ever needs an oil change. Eight Marauders players stand between six-foot-three and six-foot-eight, and some nights it looks like all eight of them can rebound, shoot the pull-up jumper, bury the deep ball and score between 7 and 12 points—even though, you know, not all of them can. Well, second-year Joe Rocca went to war against Waterloo, pushing the team engines as far as they could handle. He scored 26 points on only 12 shots, because Marauders players are efficient even when they are feeling it.
Anthony Sears, Acadia Axemen VS UPEI Panthers: 32 points, 5 rebounds, 3 assists,1 steal
The race for first in the AUS between the Acadia Axemen (i.e. 22 points) and the UNB Varsity Reds (i.e. 20 points), will only get more heated as the regular season progresses and soon enters "Capt." crunch time. And if the Axemen hope to stay right where they are, they'll hope for continued good play from the fourth-year Anthony Sears. And don't let the name fool you—this basketball player is not closing shop (i.e. the Eaton Centre downtown Toronto location of Sears) anytime soon.
Daniel Tulloch, York Lions at Algoma Thunderbirds: 24 points, 6 rebounds, 2 assists, 1 steal, 2 blocks
When he's not crowning opponents at the rim—the second grade equivalent of stealing their lunch money, in case you were wondering—second-year Daniel Tulloch is busy torching birds. He had himself a weekend, also posting a 28/10 against Laurentian, but it's this game against the Thunderbirds that puts him within the stratosphere of The CBG Bunch. We like that the athletic forward needed all of eight shot attempts, and only two from downtown Toronto, to score 24. Tulloch has scored over 10 points in all 7 games that he has played this year, and he will be key for head coach Tom Oliveri down the stretch this season. We have one wish, Daniel—please let us see another one like this one. We'll even give you our lunch money!
Philip Scrubb, Carleton Ravens VS Ryerson Rams: 28 points, 4 rebounds, 7 assists
It's something that we can neither confirm nor deny, but it appears that Philip Scrubb may allegedly be a reader of this prestigious column. This author has said that Ryerson Rams point guard Jahmal Jones has "lived up to the hype." In a showcase against Jones, Scrubb showed who was boss in the Ravens' Nest and scored 28 points on only 13 shot attempts. Some little bird told us that the reigning two-time CIS Player of the year point guard might have used this column as motivation. But that means that the fourth-year player doesn't read what we've written about him—calling him "the best player in the league."
The point guard God doesn't care what you think about him. He only cares what you think about his rivals.
Ahhhh, who am I kidding? He probably didn't read it.
Brandon Brine, Lethbridge Pronghorns VS Alberta Golden Bears: 32 points, 6 rebounds, 2 assists, 3 steals
It's not a game against the powerful Golden Bears that's scary, not when you're Brandon Brine and your hometown is Adelaide, Australia and you're now studying in Lethbridge, Alta. A fourth-year player, Brine is a versatile piece of the puzzle for the Pronghorns and plays an integral part in his team's success. He's a great shooter from the field (i.e. 47.2 per cent) and three-point land (i.e. 47.1 per cent), a big reason why he averages 17.5 points per game. Most importantly, Brine proves that when you've seen kangaroos and koalas all your life, Golden Bears are nothing fancy.
Jarred Ogungbemi-Jackson, Calgary Dinos VS Saskatchewan Huskies: 28 points, 4 rebounds, 6 assists, 6 steals
When the dinos woke up the morning prior to a doubleheader against the huskies, they ate breakfast. And for their breakfast, they had OJ—orange juice—with pulp. (We are proceeding according to the belief that orange juice with pulp is better than without, so deal with it.) Calgary lost both games against Saskatchewan, including a very close game in the first one, but it wasn't Jarred Ogungbemi-Jackson's fault. In the 96-94 loss, the fourth-year point guard scored 12 of his game-high 28 points in the fourth quarter. So far this season, still nobody in Canada has played more minutes than him, and the point guard can rebound and dish assists as much as he can score the ball—proving that OJ, and breakfast, is the most important meal of the day in dino land as well.
Steven Wesley, Winnipeg Wesmen at Regina Cougars: 25 points, 10 rebounds, 1 assist, 3 steals
After his team's 73-63 win in Regina, some believe that head coach Mike Rainbault may have called Steven Wesley the perfect Wesman. It might be true, and for reasons that go beyond the fifth-year player's last name. Wesley has scored in double figures in all but two of Winnipeg's 14 games so far this season, and he's a great rebounder. The young man from Spokane, WA, makes more than half of the shots that he takes, and he knows his range—Wesley only shoots about 27 per cent from beyond the arc, and that's why he has yet to attempt more than two in a single game.
Alex Ratte, Laurentian Voyageurs VS York Lions: 35 points, 6 rebounds, 6 assists, 1 steal
***We can neither confirm nor deny that this was the actual thought process of Alex Ratte as the Laurentian Voyageurs completed a furious rally to win the game—but it sure sounds cool enough to be.
"Man, this is my time. I'm a bad, bad man. I'm the Arsenal, the Gunners of the OUA. I'm the Brett Favre of this here game. Just give me a chance. Give a chance to this bad, bad man to do what he does best. Hell, that's 29 shot attempts, but the people love me because I'm not Rudy Gay and I can score 30 points with that many shot attempts. So I want to give the people what they want. The people came to Ben Avery gym to see us win, and I'll do what needs doing."
There's 14 seconds left, and the York Lions lead 85-83 after having mounted a furious rally. It's Laurentian ball.
"Alright, this is it. Don't "rate," or miss, this one. You can't miss this one. You miss 100 per cent of the shots you don't take, but you'll prove that you can drain 100 per cent of this one shot."
Laurentian is set to inbound the ball.
"Oh! What's this I hear? Is that Jimi?? I can hear Jimi. Damn right."
The seconds tick down, until Alex Ratte, the very first MVP of the "Being Manny (Pasquale)" basketball camp of draining big-time shots, has no choice but to shoot.
"Ball game."
Indeed.
Follow Charles Blouin-Gascon on Twitter @RealCBG & NPH @Northpolehoops