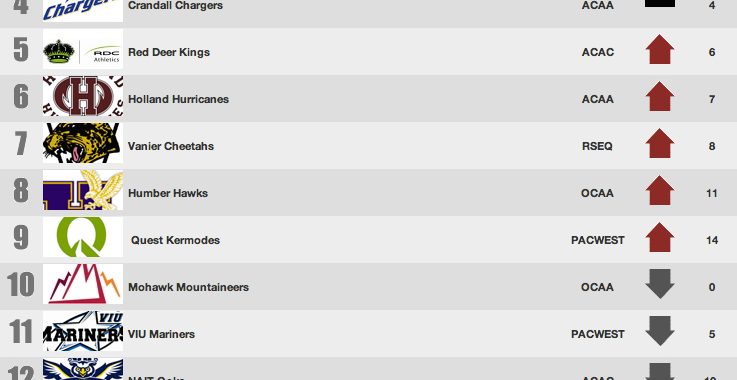 CCAA National Rankings – Top Remains, Quest Rises, VIU Drops
The Langara Falcons (PACWEST) headline the newest edition of the CCAA rankings as they retain the first overall spot in the country after a week that saw them easily roll over KPU 88-39, and increase their record in the PACWEST to 11-1.
Algonquin (OCAA), Sheridan (OCAA), and Crandall (ACAA) all maintained their previous spots behind Langara as they rounded out the top four teams in the country after all posted wins last week.
The biggest movers up the charts this week were the Quest Kermodes (PACWEST), who jumped all the way to the ninth overall spot from the 14 the previous release, following big back-to-back wins over VIU and Camosun College on consecutive nights.
Speaking of VIU, the Mariners (PACWEST) saw themselves slide the furthest down the ladder as they dropped six spots from fifth to eleventh overall after losing close games to Quest and Capillano University on back-to-back nights last week.
CCAA National Rankings