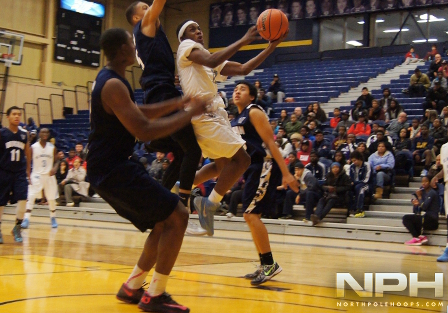 Nelson Kaputo, Godwin Boahen Lift St Mikes Over Vaughan in Early 'OFSAA' Showdown
TORONTO, ON – It's safe to say that the St Mikes-Vaughan showdown was the game everyone wanted to see on day one of the Humber Classic.
The defending OFSSA champions, the St. Michael's Blue Raiders, and the back-to-back 2011 and 2012 OFSSA champions, the Vaughan Voyageurs, were ready to face off in what ended up being a thrilling basketball game, that had St Mike's end up on top 67-57.
Both teams possess talent and are extremely well coached. The Blueraiders were the favourites coming in, but Vaughan made it difficult to predict the winner.
During both programs' OFSAA runs, some big time talent walked through their gyms, but in this game, there was no signs of Andrew Wiggins (Kansas), Troy Reid-Knight (Maine), Henry Tan (Lakehead) or Kassius Robertson (Canisius) for the Vaughan Voyageurs.
On the flip side, Duane Notice (South Carolina) and Malcolm Duvivier (Oregon State) were not expected to walk through the Humber College gym doors.
An era of Toronto high school basketball has passed, and a new one begins.
Nelson Kaputo (game-high 18 points), Godwin Boahen (15 points) and Parker Joyce (14 points) look like a big part of the future.
In this game, it was a high level shooting affair from the jump, with seven of the twelve shots made in this quarter by both teams coming from downtown. It was tied at sixteen going into the second.
When asked about his team's shooting ability, head coach Jeff Zownir of St. Michael's had this to say. "I think we had some good looks earlier in the game. Some of those shots didn't go down, so we felt like we had to keep taking good shots and eventually our shooter's shots will go down."
Halftime saw a 37-34 lead in favour of the Blue Raiders.
For the second half of the game, St. Mike's continued to play with great energy. Key players contributed with Kaputo matching nine points of the first half and Boahen adding eleven.
Vaughan's 6'8" Kalif Young was becoming a lot more active on the boards in the second half giving his team second chance opportunities. Shooting guard Jawara Pedican (18 points), added some great play to the game which helped keep Vaughan in the mix.
With the sudden change in intensity for Vaughan, they were able to take the lead in the fourth. However, a team like St. Mike's is never far behind and their star player definitely came through in the last few minutes of the game as Kaputo hit the three pointer that tied the game with just under four minutes left to play.
Careless turnovers from Vaughan and lights-out shooting from St. Mike's is what turned the game around in the final two minutes and it was finally the Blue Raiders who took home the bragging rights beating the Voyageurs 67-57.
"We are still early in the season," began Coach Zownir. "We made a lot of mistakes, but I think we have a couple players, that have been through the OFSAA championship last year, who rose up when the game was on the line. In the last five minutes, you could see Nelson and Godwin in particular who did a great job and I think that was the difference in the game."
Leadership is something SMC is learning to adapt to, with new guys who have to come in and fulfill the role of this season – Godwin Boahen and Nelson Kaputo are the names that come to mind. Coach Zownir elaborated on this idea.
"They've got to be leaders now and we've talked about that. They go from grade tens, where they're just kind of getting their feet wet at the senior level, to two guys who have got to step up and be leaders. It's a difficult situation for a grade eleven because we do have some twelfth graders on the team as well."
Thus far, the eleventh graders are doing a heck of a job steering the ship.
Humber Classic Day One Results
Eastern Commerce 65 (Kasey Morris 15) – Cardinal Newman (Hamilton) 56 (Tyler Brown 14)
Campion 67 (Curwin Elvis 17) – Mother Teresa 65 (Jalen King 26)
St. Mike's 67 (Nelson Kaputo 18) – Vaughan 57 (Jawara Pedican 18)
St. John's (Kitchener) 60 (Matthew Quiring 15) – Martingrove 47 (Ryan Fragale 15)
D'Youville 70 (Addy Ogunye 15) – Emery 52 (Jordan Holness 16)
Oakwood 79 (D'Wan Williams 22) – Pope John Paul II 72 (Tevoun Jackson 18)
Henry Carr 81 (Anthony McNish 18) – St. Elizabeth's 39 (Brian Antoine & LJ Merced 10)
Thornlea 70 (Kadeem Smithen 30) – West Humber 60 (Malcolm Heptbourne 14)