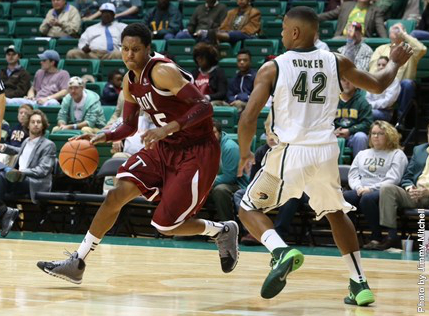 Kevin Thomas Registers Season-High 19, Olivier Hanlan Continues to Produce
On any given night, a Canadian player can have a notable performance for their team, and on most nights multiple players will play significant roles. On November 14, Kevin Thomas of Pickering, Ontario and Olivier Hanlan of Gatineau, Quebec headline Canadians in the NCAA.
Kevin Thomas (Pickering, ON) lead Troy with a team-high 19 points, 7 rebounds, 1 assist and 3 steals on 9/12 FG in the 81-69 loss to UAB. On the flip side, Thomas had five turnovers. KT brings the Trojans great versatility, and has a chance to be the teams' top producer throughout the season. The 6'8 small forward has been coming off the bench throughout the first three games, but that could quickly change with his production to date. Thomas (formerly committed to Texas) is a major talent that did two years of JUCO at Palm Beach St and is currently in his junior year. Through three games, Thomas is averaging 15 points and 7 rebounds. Troy will play Nicholls State on November 19.
Olivier Hanlan (Gatineau, Quebec) — After a breakout rookie year en route to ACC freshman of the year honours, Olivier Hanlan is picking up where he left off. Hanlan averaged 15.4 points, 4.2 rebound, 2.3 assists last season, and is up to 20 PPG, to go along with 2.7 rebounds, 3.7 assists through three games. In the 95-92 loss to Toledo, Hanlan posted 18 pts, 4 rbs, 6 ast [4/7 FG, 2/3 3P, 8/9 FT].
Canadian bigs Dwight Powell & Stefan Nastic contributed to the 71-58 Standford victory over Northwestern. Powell was limited to five minutes in the first half due to foul trouble, but was able to produce in various categories in the second half, registering 9 points, three rebounds, four assists, two steals and two blocks. Powell displayed great versatility on both ends of the floor. Nastic matched a career-high 11 points in the victory, and is off to a solid start in his junior year.
Nick Wiggins (Vaughan, ON) – Put in 9 points, 3 rebounds in 15 minutes for #16-ranked Wichita St in the victory over William & Mary 79-62. Wiggins has been an efficient contributor for the Shockers, and is making a case for sixth man on a team that was in the NCAA Final Four last season. Fellow Canadian Chadrack Lufile  (Burlington, ON) has also upped both his time on the floor and production from a season ago. Had 4 points, 3 rebounds, 1 block, 1 steal– plus a Sportscentre Top 10 appearance thanks to a thunderous one-hand jam off the steal.
Dejan Kravic (London, ON) – 8 points in 12 minutes on 4 of 8 from the field. The seven-footer showed glimpses of agility and skill set. All eight points were scored in the first half, and played limited minutes in the second. Texas Tech would drop the game to Alabama 76-64.
Manny Arop (Edmonton, AB) —  The senior wing averaged 12 point a game last season. It will be interesting to see if his role expands in his final year. Arop posted 9 points, 2 rebounds, 2 steals [4/8 FG] for Indiana State in the 96-95 loss to Belmont.