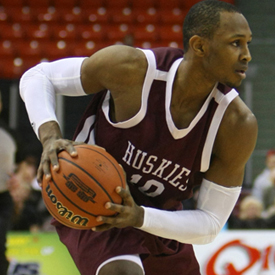 NPH CIS Team Preview – Saint Marys Huskies
Last Season 
Overall        Pct.          Conf.       Pct.       Streak        Home         Away     Neutral
12-19              .387          6-14      .300            L5           5-6              1-8          6-5
Head Coach: Jonah Taussig
Assistant Coaches: Damon Cole, Jeff Paris, Adam Dionisopoulos
Key Players: Harry Ezenibe, Riley Halpin, Boyd Vassell
Returning Players: Kadeem Scott, Jeremy McAvoy, Harry Ezenibe, Riley Halpin, Mitch Harrison, Brian Rouse (Red Shirt 2012/13)
Incoming Recruits: Theon Reefer (Toronto, Ont), Travis Adams (Halifax, NS), Leonard Riley (Toronto, Ont), Ryan Augustine (Toronto, Ont), Terrence Taylor (Nevada, LV), Boyd Vassel (Kitchener, Ont), Marquis Clayton (Halifax, NS)
Departures: Johnny Higgins, Jordan Lee, Kevin Thomas, Miguel Pink, Kadeem Thompson, Chris Jordan, Osman Odol, Asher Lewis, Warren Liang
In coach Taussig's first year as the bench boss for the Saint Mary's Huskies, the team struggled throughout the season. Then, in typical SMU fashion it pulled off the 6-3 upset over UPEI and battled Acadia tough in the semis of the AUS championships.
You can expect the regular season struggles to go away and the playoff success to increase under Coach Taussig, who to this day is still one of the smartest basketball players to compete in the AUS. Taussig's basketball IQ and class with which he conducts himself will echo through the Huskies program as it did in his playing years.
That being said, Coach Taussig has almost completely overhauled his roster in year two and in the process has put together a high octane team that is going to play above the rim and up and down the floor.
Harry Ezinebe, a fifth year forward leads this charge as a Dennis Rodman type–tenacious on the boards and locks down defensively. Ezinebe was a catalyst for the Huskies in 2012-13 and will be again this time around.
Part of SMU's struggles last year were due to Jeremy McAvoy being trust into PG after an injury to starting PG Brian Rouse. McAvoy did a solid job as a lead guard, but there were many ups and downs of learning the position.
The return of Rouse and the development of McAvoy last year will make this years Huskies a much more fluent and consistent team. Also thrown into this mix is St FX transfer and Halifax's own Marquis Clayton–a very quick and athletic guard who constantly puts pressure on the defensive end.
"We have many new bodies and as we learn each others' skills/abilities and habits we believe we will be in the mix," Coach Taussig told NPH.
Yes, they will be in the mix.
However, SMU took a big blow to their paint play with Kevin Thomas deciding to depart in September. In Thomas' absence, Capital Region locals Riley Halpin and Terrance Taylor will more than carry their load in the paint along with Ezenibe. Riley is a stretch-four who plays with a great deal of toughness and Taylor was a terror on the glass and in transition while at St FX.
Rounding out this very athletic team are Theon Reefer (one of the best athletes in the conference) and Boyd Vassell; with these two players and the aforementioned guards, the Huskies are going to be able to put a great deal of pressure on the opposition in all four facets of the game (O, O tranistion, D Transition and D) which will allow them to force tempo and style.
One thing is for certain– Coach Taussig and the Huskies will have one of the most exciting teams to watch in the CIS. They will take a solid run at the AUS elite and if all goes well for SMU, they will be clawing at the nation's best come March.