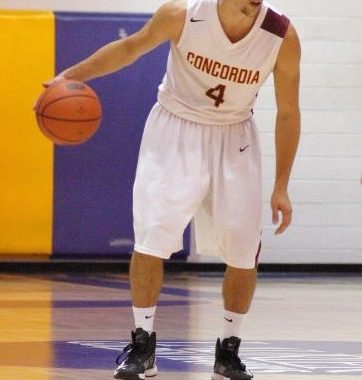 NPH CIS Team Preview: Concordia Stingers
Last season
| | | | | | | | |
| --- | --- | --- | --- | --- | --- | --- | --- |
| Overall | Pct. | Conf. | Pct. | Streak | Home | Away | Neutral |
| 9-7 | .652 | 9-7 | .652 | Lost 1 | 6-2 | 3-5 | 0-0 |
Head coach: John Dore
Assistant coaches: Ernie Rosa, Rastko Popovic, Mike Hickey
2012-2013 record: 9-7 (RSEQ)
Key players: Adam Chmielewski, Zach Brisebois, Jean-Andre Moussignac, Taylor Garner
Incoming players:
Inti Salinas
Sean Humphrey
Jonathan Mirambeau
Mukiya Post
Josue-Smith Telfort
Zander Jean
Austin Arion
Michael Fosu
Departures: Morgan Tajfel, Laurent FitzGerald, Kafil Eyitayo, Kyle Desmarais, Jerome Blake, Gabriel Riche, Sheldon Moore, Evens Laroche
MONTREAL—John Dore enters his 25th season at the helm of the Concordia Stingers, and he's ready to celebrate. "It doesn't matter what year it is," he says, "we want to celebrate every year."
Somehow the job still surprises him after all this time. Only this year, it's not necessarily a good surprise.
The RSEQ has decided to host a Final Four in the playoffs at a pre-determined site, like many of the other CIS leagues have done, but Dore doesn't understand the need to do this in a five-team league. In playing teams four times each, the advantages gained are minimal, and the Stingers head coach thinks it's unfair to rid a high seed of the possibility to host playoff games on its homecourt. "I'm really not in favour of it, though," he says, before repeating it. "You go through the whole year and at the end it means nothing."
Concordia lost key players in Kyle Desmarais, Evens Laroche and Kafil Eyitayo, and a trio of young players will be asked to step up this year—Josue-Smith Telfort, Zander Jean and Michael Fosu. The coach has wasted no time in getting these three acquainted to a vast array of CIS teams in the preseason. With games against UNB, Toronto, Ottawa this pre-season, Dore thinks that, "Concordia is one of the few teams that's really playing a national schedule."
It's not by playing in a five-team conference that the Stingers will find the type of variety that is necessary to rival the elite teams in the country. Dore recognizes that in the team's run to the CIS Final 8 in 2011, it hurt them. "We play each other so many times," he says. "There are not too many secrets."
But he does think that the level of play is underrated in Quebec. McGill, as Quebec representatives a year ago, did win two out of three in Ottawa last year after all. "Last year, there was a number of really good teams in the league," he says.
The loss of Evens Laroche, who had been one of the better forwards in the country for his career, will definitely hurt. But Dore says that this may be a blessing as the Stingers will not be as dependent on the performances of one player as they have been in the past. "We'll have to share the ball a bit more," Dore says. "We'll play more as a team than we have in the past." In fact, he thinks that the Stingers will win with team chemistry more than individual talent this season.
That's not to say that Concordia is devoid of talent. Team strengths will be shooting and ball handling while weaknesses will be depth and size.
The regular season is right around the corner, and Dore thinks his team will be ready. "You don't get nervous. You just prepare," he says. "You prepare well and you don't get nervous." Twenty-five isn't a round number, but it's big milestone. Dore is ready for it, and so is his team.
Follow Charles Blouin-Gascon on Twitter @RealCBG & NPH @Northpolehoops