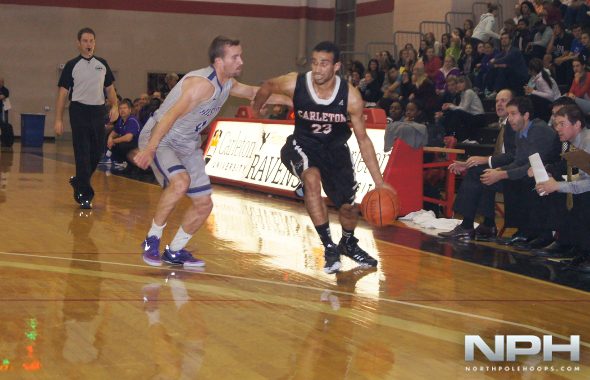 Clinton Springer-Williams, Phil Scrubb & Carleton Ravens Crush Bishops
The big match up of the tournament is set for today where home team Carleton Ravens will face the University of Victoria Vikes. Yesterdays results at the House-Laughton tournament include a 68-60 win for the Vikes after having control for the majority of the game against Lakehead.
6'10 Chris McLaughlin displayed great versatility, scoring inside and out,  while Terrell Evans shot with great efficiency from the perimeter.
The Lakehead Thunderwolves have reloaded their roster and are in a rebuilding stage, seemingly in the process of redefining roles and having an identity on offense.
Thunderwolves freshman, Josh Bell will likely not be suiting up today after he pulled a muscle in his shoulder last night against the Vikes and was in a lot of pain.
Holy Trinity (Oakville) alumni, Nolan Mackenzie looked composed and ready when he got his minutes, offering a different mental approach from the other guards. I see Mackenzie earning close to 20 minutes at the point this season. The fact that he can spot up and knock down, control tempo and make plays for others off of penetration put him in a good position.
NPH Top Performers
UVic Vikes 68
Terrell Evans – 28 points, 5 rebounds
Chris McLaughlin – 22 points, 8 rebounds
Lakehead 60
Igor Lebov – 17 points, 12 rebounds
Anthony McIntosh – 20 points, 3 rebounds
There's not much to say about game two, where defending CIS Champion Carleton Ravens took it to the Bishop's Gaiters in a 87-55 win, stifling the RSEQ contingent defensively. Carleton's ball movement in the half court set is what essentially gets them the shots that they want. Dave Smart demands that every one of his players knows and is able to anticipate what the result of each pass will be.
Today they will play against the Vikes in the more anticipated game of this tournament. Stay tuned for coverage on the House-Laughton.
Follow Elias_NPH for live coverage
NPH Top Performers
Carleton 87
Clinton Springer-Williams – 23 points, 4 rebounds (9/12 FG, 4/6 3P)
Philip Scrubb – 20 points, 3 assists (7/8 FG, 4/4 3P)
Bishop's 55
Mike Andrews – 20 points, 5 rebounds, 3 blocks