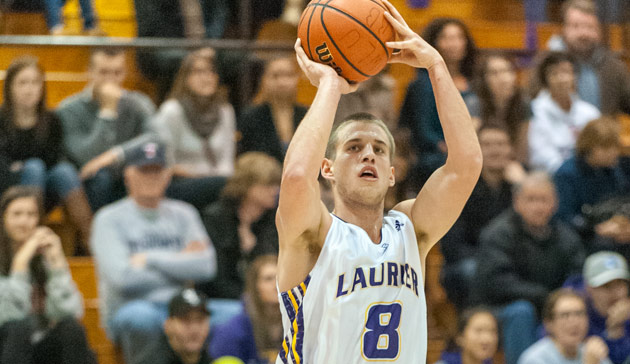 Max Allin, CIS Scoring Champ Picks up Where he Left off, Laurier Rolls Over Memorial
WATERLOO, ON–The nation's reigning scoring champ picked up where he left off, as Max Allin registered 26 points, 10 rebounds and five three pointers to lead the Laurier Golden Hawks to their tournament opening win, a 86-56 rout over the Memorial Seahawks on Saturday night.
"We just came out and we ran, had a lot of transition, we wanted to get up and down the court," said Allin who shot an impressive 9 for 13 from the field.
When asked about which freshmen looked impressive, Allin was quick to sing the praises of two players in particular, "Our starting point guard James, and Jack Simmons are going to contribute major ways right of the bat"
Rookies James Agyeman (Brampton / D'Youville) and Jack Simmons (Cambridge/ Galt) started for the Hawks and scored 13 and 12 respectively. Will Coulthard finished the game with nine points on 4 of 10 shooting.
Laurier Head Coach Peter Campbell agreed with Allin that Agyeman and Simmons looked very impressive, but he was sure to point out the play of freshman Vladimir Matovic saying, "Early he was getting muscled off the ball a bit but he got used to it, he's long and athletic. It's a big jump from KW basketball to this level, he's doing a great job at it." The Waterloo native scored seven points and pulled in three rebounds.
Coach Campbell also chimed in on the full court pressure Laurier implemented in the second half stating, "The addition of James, Jack, and Vladmir gives us a lot more depth, and they are all mobile so theres no reason we cannot play that way more than we have in the past."
Memorial seemed outmatched in every facet of the game. While they did keep the score relatively close during the first half, only trailing by seven, the Golden Hawks were able to turn up the defense in the second half and force nineteen turnovers.
Ryan Wood scored 11 points for the Seahawks, who opened the Naismith tournment with a loss. Caleb Gould and Vasilije Curcic had 10 points apiece and Jacob Ranton added 7.
The Golden Hawks look to stay perfect as they go head to head with the Brock Badgers, while Memorial will now try to bounce back against the Waterloo Warriors. Tip off begins at 6pm Sunday.