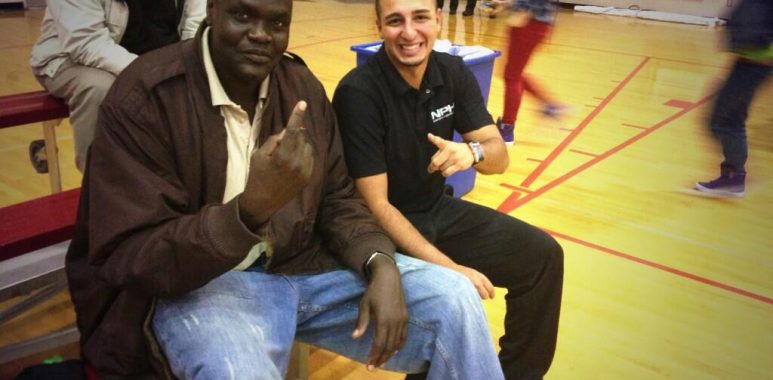 Makur Shayok Watching Seeds Blossom: A Canadian Basketball Family
On my trip to Ottawa to catch pre-season basketball at the House-Laughton tournament, I bumped into Makur Shayok.
The 6'9 presence wasn't difficult to track as I remember meeting him for the first time two years ago in the nation's capital during the AAAA OFSAA basketball championships.
Makur is the first generation of Shayok basketball, playing NCAA division one hoops at Dayton (1990-92).
Since then, his children have grown and excelled in the sport, learning what pops taught them.
Three of his five offspring have obtained NCAA D1 scholarships. Shayok Shayok (Bradley / UMKC), Yar Shayok (Detroit), and most recently, NPH #3-ranked Canadian prospect Marial Shayok who recently committed to Marquette.
Although Makur mistook me for a classmate of Marial, (probably due to the fact that I'm only 5'9) he ultimately remembered our first meeting. Two years ago, while Marial was still playing high school basketball in Ottawa at St Patrick's, there wasn't much I could've told Makur that he didn't already know.
[youtube]rLHZGEBDPPQ[/youtube]
Going through the experience at Dayton University and then professional basketball, Makur was able to pass along his knowledge, experience (and genetics) to his children.
While Carleton was laying a beating on Bishop's, Makur and I had a lengthy conversation on basketball and life. A few things that stood out were:
Finesse – Makur talked about Marial stating that his game is not necessarily all about athleticism and physical attributes; he puts pride in the finesse game and building on his skills.
Mental game – Keyed in on Marial's maturity, he's mentally ready and focused for the next level.
Versatility – Marial is a two-way player that takes pride in his defence, and can play four positions on the floor, if need be.
Universal respect – Makur talked about the universal language that is basketball; regardless of your colour, religion or ethnic background, any player can earn respect on the hard wood.
Marial VS. Shayok – Initially answered as any father would, saying "they can both play," followed by saying that Marial is at an advantage, being able to learn from father and brother.
Yar Shayok (daughter) just signed a professional deal in france, following a solid career at Detroit, averaging 9.3 points and 8.7 rebounds as a Titan.
Shayok Shayok (older son) has recently transferred from Bradley to UMKC, where he will sit out this season due to NCAA transfer rules.
Marial Shayok AKA "Super Marial," [a nick name that was coined by my guy @CarlanGay at OFSAA] enters his senior season at Blair Academy in New Jersey.
As for the eldest, Makur Shayok sits back and watches his seeds his blossom.
A proud father.